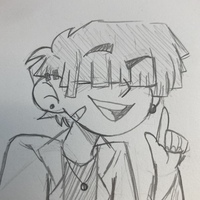 Profile
---
NAME: Brett Grady 
AGE: 17
SPECIES: Human
BIRTHDAY: October 17
PRONOUNS: He/him
SEXUALITY: Straight
HEIGHT: 5'5"
PERSONALITY: A little off his rocker and very bad with social cues. He's obviously seen some shit. Aside from that, he's extremely, dangerously intelligent but also very susceptible to manipulation. His mentality is always to look out for number one, and he trusts nobody.
ADDITIONAL NOTES: 
- He skipped multiple grades and is the youngest person attending Oddity Academy. 
- He speaks both English and Spanish.