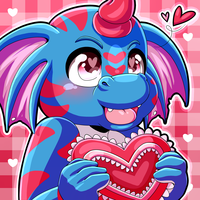 Basic Info
---
🍄 Age:

Less than a year old (with the average mental level of a six year old human child.)

🐲 Species:

Knotted-Horn Dragon

📏 Height:

2' 5" (VERY important: he is 2 1/2 heads tall! Please respect this ratio when drawing him.)

💖 Likes:

Eating, sleeping, his bearskin blankie, his parents.

💔 Dislikes:

The dark, danger, anything that requires much physical exertion.

🧸 Can you draw him?

Yes, if you know me, and following the rules below. If you are drawing Horus outside of his universe or in any sort of non-canon situation, ASK ME FIRST. A non-canon situation is one that wouldn't be possible in his world (including meeting someone else's OCs.)

🎨 Art of Horus That I Have Drawn:

🎨 Art of Horus That Others Have Drawn:
Profile
---
Horus is spoiled and a bit cowardly, but has a good heart. He has a soft, stocky body. Extremely prideful and prone to tantrums, he tends to emote with his entire body. He is not very fast, and can't fly yet, but he can spit out a little fire. 
✨ THE IMPORTANT STUFF ✨
🍄 Do not include him in any writing or stories without my explicit permission (for this character, this applies to friends as well.)
🍄 Never draw him in NSFW or kink situations.
🍄 Horus has a knotted, single horn on his forehead. This horn is not very sharp yet, but it is kind of pointy and hard: don't draw it looking like a soft pile of poo. 💩💧
🍄 Horus is 2 and a half heads tall. Please respect this whenever possible, even if your style usually has characters being taller. Horus is really really short.
🍄 Never draw him wearing diapers or any kind of baby gear. Do not draw him in modern situations or situations that would be too unlikely to happen within his fantasy universe without running it by me first.
🍄 Never draw him in the same picture with a character that is wearing soiled underwear.
🍄 Horus' wings and ears are a bit raggedy, with tiny tears here and there. These are important, and, like his stripes, they don't have to match the reference exactly.
🍄 His belly and bottom hang low, almost but not quite dragging on the floor; he sorta waddles to walk.
🍄 Horus' wings are too small for his body, while his ears are too big for his head. Always err on the side of making his ears too big rather than too small: his ears should always be considerably bigger than his wings. Cartoonishly large ears are fine, too-small ears are not.
💙 REFERENCE SHEET 💙