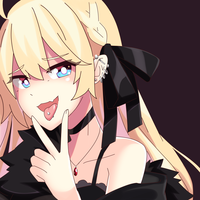 Basic Info
---
✦NAME

Yui Mitsurin (密林ユイー)

✦GENDER / SEXUAL IDENTITY

Male / Cis boy

✦SEXUAL ORIENTATION

Bissexual

✦HOROSCOPE

Scorpio ⊙, Taurus ☾, Pisces rising, Scorpio ♂, Aries ♀, Aquarius ☿

✦FLOWER

Common Poppy (Peace through death)
Profile
---
❈Yui in "Unknown Palette":  
Yui is essentially a himedere, proud of his looks and secure of himself, Yui is very faithful to what he believes and loves. Likes to be spoiled and to spoil, is still innocent inside.
❈Quick personality rundown: Strong, firm, sassy, bold, mysterious, stubborn, lascivious, vengeful, confident, daydreamer.
❈Personality trivia:
Fakes himself in order to interact better with people
Struggles to feel guilty and empathy towards others
Friendly when he is pretending to be sociable
Dislikes the feeling of not being in the control of the situation
Dislikes feeling lonely
Still a bit innocent inside
Strict about those that become close to him
Likes to be praised
Gets excited and happy about simple things, such as flowers blooming in the spring or waking up on a rainy day