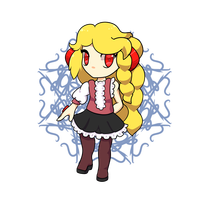 [$20] Seven Of Cups Suikana
Created

2 years, 5 months ago

Creator

Favorites
Profile
---
Adoptable Information
This Seven of Cups Suikana is obsessed with fairytales and fantasy.  She believes that she's destined for a happily ever after, and because of this, is often naive.  She doesn't always make the best decisions, but she's sweet and caring, so most of her friends don't care.  She dresses like a fairytale princess, and acts like one sometimes too.
---
Traits
Common Suikana (Common)
Two Horns (Common)
Hand Symbol (Rare)
Standard Element (Common) (Water)
Standard Color (Common)
---
Adoptable Information
This adoptable requires an account on EvoCrit.
This adoptable can be used in the Suikana ARPG world.
This character will come with a full profile on EvoCrit.
To purchase this adoptable, comment on the page with your EvoCrit username and say that you're interested.
Payment will be facilitated through Square Invoice or PayPal Invoice.
TOS and ARPG information is available through the "Ownership" section.