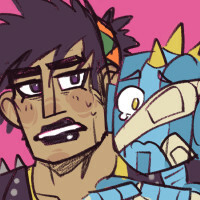 Basic Info
---
Primary Ability

NEVER SAY DIE - Like a reverse Picture of Dorian Grey, this stand gets stronger the more Joaquina takes a beating.

Secondary Ability

A RIBBON TIED - If wrapped around her fists, COMEBACK KID's bandages allow Joaquina to make physical contact with stands.

Battle Cry

ORAORAORAORAORA *CK screaming in the background* AIYAIYAIYAIYAI
Profile
---
Joaquina Joestar has always known about her stand-- it's just that she never knew what it was, exactly, and neither did the people around her. It wasn't until junior high, when a pair of bullies cornered Joaquina after school and her imaginary friend knocked them flat against the pavement, that she realized something supernatural could be going on... and even then, she had no idea it was something she could control! Years and years of treating her stand like a separate entity has resulted in it developing its own personality, like a rogue AI, based off of Joaquina's subconsious. It named itself COMEBACK KID after a song it heard on the radio, and the two are more like siblings than user and stand.
Now in her late twenties, Joaquina runs her late father's auto repair shop in a podunk town in the middle of the Mojave Desert. Her intimidating appearance and latent supernatural ability make her a permanent outsider and occasional boogeyman, but the townsfolk respect the quality of her mechanical work, and those who take the time to talk to her quickly discover that her "strong silent type" persona is more the result of shyness than anything else.
Unlike the usual stand-wielding Jojo protagonist, Joaquina prefers to get her own human hands dirty. Mostly this is because she doesn't find out she can actually control CK until the start of the hypothetical story, but also because her unusual secondary stand ability lets her corporeal form interact with incorporeal stands-- for better or for worse.