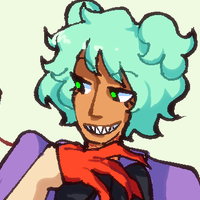 ---
When both of them were human, Gauge looked up to Leppo (Lucca, at the time) but never really met him. They just thought Lucca was talented and cute. They think the moment Lucca commited suicide was the downfall to their luck. Since that moment, they experienced the worst luck ever, and had no one to blame it in (used to be their awful relative, but since that one is dead already...) So when they see Leppo, they see someone they can place that blame in. They're thrilled about it, and want to see him suffer, cry and many other things. Coincidencially, Leppo's fake and outward way to be sadistic and smiling all the time is what Gauge's true personality is like, and they don't really get that Leppo is acting; they feel that both of them are similar and that makes them feel comfortable in some way. They get that Leppo is very uncomfortable about his past, but they don't know exactly WHY, so they just drop subtle hints about it to see what happens. In any case, Leppo and Gauge's relationship depends a lot on the route it is, and in a good end, they have a very different relationship, plus a very different way to meet. Gauge's feelings would be the same at first, though.
---
Someone he doesn't want to kiss. He's incredibly annoyed by them, he's even scared of them in some way. He doesn't know what they know about his past, and he doesn't WANT to. But he isn't bitter to them, he still acts. He does many things to drive them away, but Gauge either doesn't get it... Or gets it, and doesn't go away anyway. Under natural circumstances, he wouldn't have any sort of feelings towards them, but there's something weird... Receiving the kind of attention Gauge gives him, makes him feel a tad more human, and that's naturally a good thing whether he likes it or not. It's always very dangerous to him.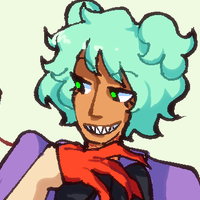 ---
In the case they happen to meet, Gauge would be insterested in Clint. They would want to bother him, but they would be distracted by other people first. They would procrastinate bothering Clint. They wouldn't go past bothering, though, unless the situation makes them want to do something more. They think he's cute.
---
He doesn't want anything to do with Gauge because Gauge resembles Leppo way too much and Clint doesn't have time to deal with that. Yet, the enemy of my enemy is my friend, or at least acquantaince.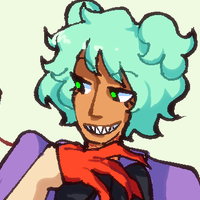 ---
Gauge is a person who gets easily attached to people, and Penta was one of them. They blamed themself for a moment, because they agreed that there was no emotional attachments. There's still a lot of resentment left, even if they lie to Penta and to themself, but they've grown to know Penta better. She's different from what Gauge idealized, and they're okay with that. It's just that they don't feel so close to her anymore. She's cool, though. And has a really good sense of humor. Adventuring with her is thrilling. So... Well. They're friends, and in good terms.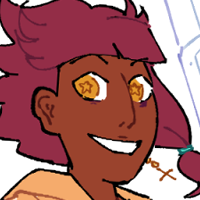 ---
They're friends, and in good terms. She didn't know a lot of the things she did were affecting Gauge, so she's trying to be more mindful lately. But she's too reckless for that, so it doesn't work too well. They do get along. Penta is very motherly towards Gauge and loves them dearly, in a platonic way. Gauge is one of the few people Penta is physically affectionate with. She does want their relationship to get better, she wants to assume the adult role and she wants to help Gauge, because she knows they're troubled. But she should help herself first.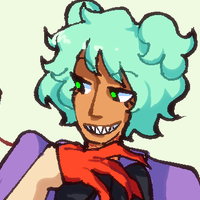 ---
Wants to tease her about their status because they know she's frustrated about not being able to catch them. But she can be sorta scary... She's too lawful to be fun to play with.
---
She didn't have the chance to catch them before she received the order to NOT catch them, and she's so upset about it. She wants to throw them in jail. They're a walking offense.