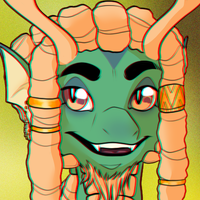 Created

1 year, 11 months ago

Favorites
Profile
---
Barbados
Male
7' 2"
Dragonian
$45
About
boisterous . affable . loyal
Barbados has been summoned!
The big, burly dragonian is loud & overly friendly. He makes for a mighty summon, happily jumping to his summoner's defense without another thought. Barbados has a high sense of morals & honor, striving to uphold what he believes is right. His natural affinity is lightning, over which he masters. A soulbound, golden halberd is his battle companion that he swings with ease. He is insanely friendly, enjoying stories & sharing laughs with others. Though being as large as Barbados is, he knocks most on their face when clapping them on the shoulder or back when he's excited. He's dotes fiercely on his summoner.
Before being a Summon, deigned to reside in a chest, he was a god of destruction. Young, hotblooded, Barbados was like a clap of thunder—heralding the incoming storm. He was a harbinger of havoc, bringing waves of bloodshed behind his heels. But his day soon came, the world shaking with rage from their loss. A circle of mages faced the dragonian &—undoubtedly due to a higher power—managed to seal the once-god to a chest. They hid the chest deep within a dungeon, praying one worthy & able enough to rein in Barbados would find him.
Barbados waited eons & remained locked inside his refuge until his trove was but a fable. His solitude tampered his temper, given the time to reflect upon his actions. The mindless slayer was no more & he mourned for those he caused harm, vowing to become a righteous warrior that aids those in need—should he ever be found. But eventually, the snap of his chest's lock filled his space... and he was called to the world once more.
Design Notes
has a dread ponytail
tips of ears are darker green
has three fingers & toes, plus dew claws
two small nubs on each side of jaw
triangle shape of scales go from the top of his neck to collarbone