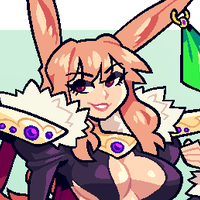 Basic Info
---
Race

Rabbitfolk, Palomino subspecies

Hair color

Rose Champagne
Profile
---
An arrogant, sexy sorceress who certainly likes to act the villain, but she's a little too soft for it. She's more of a quirky nuisance than a bad person even if she tries to seem otherwise.
She is secretly a little lonely and doesn't exactly know how to deal with those feelings.
This character was designed by Cubesona.