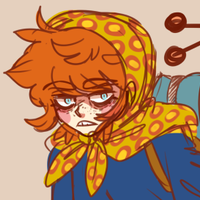 Basic Info
---
Occupation

Fortune Teller
Profile
---
A fortune teller from the countryside who is the first child in many generations to inherit the "blessing" rooted in her bloodline. Her once-quiet farm village became a tourist attraction when her parents advertised her powers to the public in hopes of gaining prosperity. Curious (and mostly affluent) people from all over the realm visited the quaint village in hopes to get a glimpse into both past and future. The village enjoyed flowing coin, growth of business at inns and restaurants, and an overall improvement in their quality of life. However, Edith could not help but feel her heart become emptier.
She dresses in traditional folk garb which consists of a headscarf and an ankle length dress with an apron. She is constantly slouching, her hair is a mess, and she always seems to look like she needs a week's worth of sleep. Edith has vacant eyes, bad posture, and walks similarly to an undead creature with a jerk in her gait. She has a creepy aura about her and some may find that being in her presence is a little unsettling.
Edith is addicted to tea and caffeine. She often feels like she cannot fully function without it, especially when her visions act up and she has sleepless nights. She may neglect other matters at hand to boil a kettle.