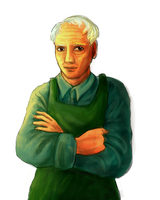 Profile
---
✦ About
A grandfatherly figure to Sam, Harvey is one of the mainstays of Sam's childhood growing up on the Lower East Side. 
One of the most well-known delis on the Lower East Side, Feingold's has been serving the Lower East Side's Jewish community (and beyond!) since the 1890s.
Herschel "Harvey" Feingold immigrated from Stanislawow in South-eastern Poland (Galicia) in 1892 in his early 30s.  A Galitzianer (Galician Jew), he had previously worked as a tailor before immigrating with his family to the States.
As a Galitzianer, he prides himself on his sweet gefilte fish. Litvak (Lithuanian Jewish) chefs, on the other hand, would've made their gefilte fish savoury. Sam, being from a Ukrainian Jewish background, is more accustomed to the sweet gefilte fish, due to also being a "southeasterner" rather than a "northerner" (which Litvaks were considered).
Read more about Harvey here on our website: https://www.fortunusgames.com/post/harvey-feingold
✦ Appearance
Harvey is around 165 cm tall.
✦ Likes
Friendly people and people who stop by to chat
Yiddish theatre 
Listening to people's stories about their lives
Living in a tight-knit community on the Lower East Side
✦ Dislikes
People who are food snobs and make their snobbery very obvious
Picky eaters
Rude customers
His landlord
✦ Relationships
| | |
| --- | --- |
| Sam Abramov | Harvey's known Sam since Sam was a baby, since Sam's parents often frequent Feingold's.  |
| Lev and Raisa Abramov | Harvey's known them since they first immigrated to the Lower East Side in 1898. Raisa thinks that some of his food is too unhealthy and greasy, but they both still keep on coming back. Old habits die hard. |
| Frankie Amato | Frankie is introduced to Harvey through Sam. While he's okay with Harvey's coffee and the bagels, he's not okay with the pastrami and some of the greasier foods at the deli. He doesn't say anything though, since he doesn't want to offend Sam or Harvey. |
✦ Trivia
● Harvey sometimes does catering for events at the Yiddish theatre, so that's how and why he has connections with the people there. As a result, he often has a couple of free tickets he got from the Yiddish theatre.
● Harvey thinks Lev and Raisa are too strict on Sam and thinks that they should loosen up.
● Harvey thinks Sam will make something of himself, even if he doesn't become a lawyer like his parents wanted him to be.
● Harvey has a feeling that Frankie doesn't think his food is up to par, but neither of them say anything to avoid offending the other. 
profile html by Hukiolukio