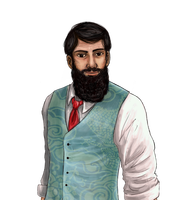 Profile
---
✦ About
Lev (Yehuda Leyb) Yisraelovich Abramov was born in Minsk, Belarus, in 1870. Lev is a serious, demanding father to Sam. Lev seems to want to live vicariously through Sam. 
Lev grew up in a religious family - in fact, his father was a Rabbi in Minsk. However, Lev did not think religious life was for him, so at the age of 17, he went to Odessa, Ukraine, to join cousins who were already working there.
Lev became a staunch atheist while in Odessa. He became involved in left-wing labour movements (precursors to the Bundist movement).
After marrying Raisa Rifkina (who became Abramova after marriage), Lev and Raisa decided to immigrate to America due to the pogroms rocking Ukraine in the 1890s. 
Raisa and Lev settle on the Lower East Side and become newspaper editors and writers for a number of Yiddish newspapers. 
Read more about Lev Abramov here on our website: https://www.fortunusgames.com/post/lev-abramov
✦ Appearance
Lev is around 168 cm tall and he stands up very straight. 
✦ Likes
Rules, discipline, and setting goals 
Making sure Sam has done all of his homework and chores
Writing, left-wing politics (he's extremely pro-workers and pro-union), editing newspapers, going to the Yiddish theatre (before Sam became obsessed with it - then Lev stopped going since he wanted to encourage Sam to be obsessed with the law, not the theatre!)
Ambitious and hard-working young people with a bright future ahead of them
✦ Dislikes
Whenever Sam says he wants to be an actor 
Whenever Sam says law isn't for him
Mainstream American "W.A.S.P." (White Anglo-Saxon Protestant) society's idea of what it means to be American and the American idea of giving up your language, culture and name so you can "fit in"
Being told that something's good for him when he thinks it obviously isn't
✦ Relationships
| | |
| --- | --- |
| Sam Abramov | Lev loves his son deeply, but is also over-protective and very demanding towards him. |
| Raisa Abramova | Lev and his wife have become more emotionally distant in their middle-age, but they do love each other and work very well as a team, both at work and at home. They really like micro-managing almost every aspect of Sam's life... |
| | |
✦ Trivia
● Lev wasn't that strict when Sam was young. He only became stricter and more demanding towards Sam after Sam turned 11 and Lev felt like he had to be better prepared for high school. 
● Lev was less stubborn before he grew his beard (which was when Sam was around 7 or so).
● Lev has excellent English since he spent a lot of time perfecting his grasp of the language. Nonetheless, he does not believe in assimilation into American culture. He believes in integration, not assimilation.
● Lev always wanted to be a lawyer, and this is one of the reasons he wants Sam to be a lawyer, since he (subconsciously) wants to live vicariously through his son.
profile html by Hukiolukio