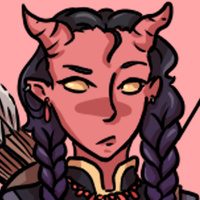 Profile
---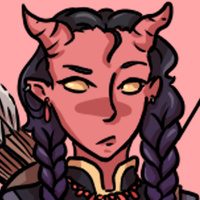 Name
momo setseg
Race
tiefling
Class
ranger
Background
criminal
Age
25
Height
5'9"
Alignment
lawful neutral
HTML
About
Abandoned at a young age, Momo is a tiefling who stayed alive on her own by hunting, scavenging, and pickpocketing. As an adult she took on bounty hunting and assassination jobs. While tracking a target, she was convinced to join a chaotic party comprising of another tiefling, a Warforged, and a verdan.
The group have stuck together ever since, travelling from city to city to deal with evil landlords, Chaos Emeralds, and many, many chickens.
Trivia
Momo is a lesbian, and ends up in a long distance relationship with the wainwright in one of the towns the party frequents.
Write a quote or tagline here