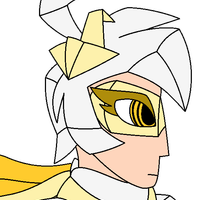 Profile
---
Real Name: (Unknown Name)
Stage Name: Zuruami
Meaning: A combination of "Orizuru" and "Origami".
Title: The Origami Magician
Gender: Female
Age: 20 years old
ARMS Appearance: White origami springs.
Height: 6'2" (183 cm)
Weight: 5.32 kg
Affiliation: Tekuimo Artsu
Personality: Quiet, Cold, Crafty
Hobbies: Origami making, Balancing
Likes: Origami, Challenging others, Curry
Dislikes: Pop music, Ramune, Mimes (Metamfiezomaiophobia)
Unique Abilities:
She can gain flight by triple jumping. This ability lasts until she is knocked down.
Once charged, she summons paper origami birds that are animated and home in opponents.
Main ARMS:
Crane: A white and swirly green and yellow outline bird with a wind attribute. This one lets out a tornado when charged.
Paraze: An orange and white-flamed umbrella with a fire attribute. Once charged, the inside is orange and emits fire, which can knock down opponents. Much faster, but lacks manual control.
Reblossom: A muted pink perpetual rotating spring-loaded mechanism ARM with a wind attribute. It fires out 3 pink missiles and has homing system. Doesn't spin normally, but will spin when charged.