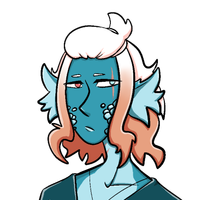 Profile
---
Talya est l'apprentie d'Araxie. Elle est une Ondine
Elle a été recueillie peu de temps après sa naissance, elle ne connais pas ses parents.
Au sein de l'Abîme Brumeuse, elle assiste Talya pour toutes les taches qui attraient a la magie. Elle est également la seul personne autorisée a sortir de l'Abîme.
---
Talya is Araxie's apprentice. She is an Undine
She got took in not long after her birth. She does not know her parents.
Within the Misty Abyss, she assist Talya for all tasks related to magic. She is the only person allowed to leave the Abyss.