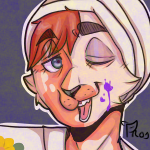 Profile
---
Sunflower
DESIGNER

Froggychairzone

VERSE

ROLE

Clone of Vincent Van Gogh

WORTH

Unknown

VOICE

Andy Dick

THEME

Coming Soon
AGE

16

BIRTHDAY

March-3

PRONOUNS

He/Him

RACE

Feline Chimera

OCCUPATION

High school student

MBTI

ISFP
BLOOD TYPE

B

HEIGHT

5'7

WEIGHT

110

ORIENTATION

Unknown

RELATIONSHIP

Unknown

STATUS

Unknown
Somewhat tall for a high school student, Sunflower measures in at 5'7, the feline chimera typically stands on his hind legs. His face is that of a cat, one that has a split colour on each side. His right side of his face is a darker peach colour while the left is a lighter peach. The majority of his muzzle matches the darker side of his face. His fur is dappled in blotches of different peachy colours, spattering all across his body. As for his face, his eyes are heterochromic, his left eye sporting an emerald green colour while his right eye is a sky blue. From underneath his bandages, he has a small tuft of orange fringe that hangs out and over his forehead. These bandages are always on his head wrapping around his ears and holding them down. They cling to underneath his chin and stay in place pretty well. Leading down his body is the same kind of fur that adorns his face. Down to his paws, the dapples of peachy coloured fur is a soft look to one's own eye. This fur is often not seen though as Sunflower usually wears a nice, thin shirt adorned with little sunflowers all over it. Popping out of his denim jeans is a small tuft of a tail. Credit-https://www.lioden.com/territory.php?id=131900 Jasper (#131900)
PERSONALITY
Sunflower is known around his school as an art prodigy, people calling him the reincarnation of Vincent Van Gogh. He adores painting specifically, favoring sunflowers as his main accent in all his art pieces. Typically, he keeps to himself and is quite quiet, though he cares immensely about the people around him. He's fairly soft spoken and shy, preferring to stay outside the eyes of attention albeit this being hard at his school. He is fairly humble in his work, preferring to let the art speak for itself. He strongly dislikes creepy things and dislikes it when people ask him to draw such things for them. He usually says no, although in a kind way. Because he is so quiet, he has a hard time making friends regardless of how kind he is. He hates being alone and would rather share his art with another person. On another hand, he has a habit of touching his bandages self-consciously and getting paint on himself. He tries his best to wipe it off but paint is hard to get out of clothing! He usually has to spend a few hours trying to get the paint out of his various sunflower-adorned clothing pieces.Credit-https://www.lioden.com/territory.php?id=131900 Jasper (#131900)
Coming Soon
Short Story
Coming Soon
Coming Soon
Cooming Soon
Short Story
Coming soon
Coming Soon
LIKES
Art
Painting!
Keeping to himslef!
Sunflowers!
Watching the Sunrise!
DISLIKES
Loneliness!
Bullies!
Creepy stuff!
The Dark!
Being the center of attention!
HOBBIES
Painting Flowers!
Relaxing and thinking about life!
Growing Sunflowers & Painting them!
Collecting clothing with sunflowers printed on them!
Writing!
HABITS
Slouching!
Rubbing paws together when nervous!
Fixing his bandages!
Voice gets softer when talking about stuff he likes!
Often gets paint on himself and his bandages!
STRENGTHS
Art!
Drawing sunflowers!
Seeing the good in others!
Soft spoken!
Very caring!
WEAKNESSES
Talking to others!
Making friends!
Talking about his feelings!
Letting his thoughts get to him!
Any thing with sunflowers on it!
TRIVIA
Sunflower is very shy and timid!
Loves to draw his friends!
He has a secret diary!
Likes to write down his feelings and thoughts in said diary!
Enjoys the warmth of the sun!