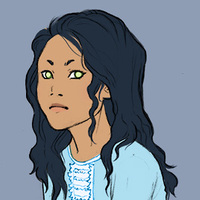 Basic Info
---
Species

Animal-born shapeshifter (Satin Bowerbird)
Profile
---
Ao is all about color blue. If there are blue clothes, Ao wants to wear them, if there is a blue plate, Ao wants to eat food from it, if there is a blue building, Ao wants to live there. If the sky is blue, Ao sits outside, if a blue trash flies in the wind, Ao rushes after it. It's both a blessing and a curse for adults: While Ao simply refuses to life and fulfill even his basic needs without the help of blue items around him, on the other hand he couldn't care less about the biggest of riches in the world if they aren't blue. He's both modest and extremely picky.
On top of this, Ao is a very curious, lively child, but trust more his bird instincts he was born with, rather than human logic. Ao currently lives in an orphanage: After aimlessly wandering to a new town after following a blue caravan, the caravan people brought him to a local orphanage since no-one knew where he came from and where was his home. Ao doesn't seem to mind it, as long as there are more blue things to discover in this new home of his.
Located in a post-apocalyptic world.