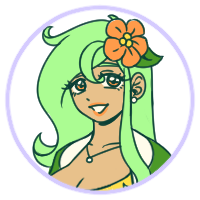 Info
---
Created

1 year, 8 months ago

Creator

Favorites
Profile
---
template by shroomish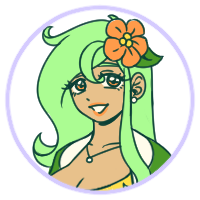 ---
---
---
---
---
---
---
---
---
---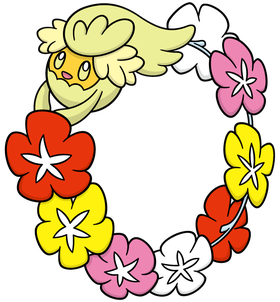 ---
"I won't learn anything if I'm weak all my short life!"
A young lady from Alola born to a world-famous chef and a malasada shop owner. Came to Unova in an attempt to come out of her shell, tired of being weak and helpless. Still a sort of delicate crybaby, but she hopes that her friends and the Battle Subway will help her become a stronger person and a better Trainer.
Works at a bakery with her friend Sweet, taking over when Sweet's grandmother passed away. Always seems to have her hands full, but hasn't been crushed under the pressure... yet.
Personality and History
---
Positive
---
diligent
nurturing
optimistic
Neutral
---
pure
placid
superstitious
Negative
---
crybaby
gullible
naive
Spoiled and sheltered as a child, she grew into a frail and spineless girl who relied heavily on others. She's been trying her best to change, determined to be able to stand on her own two feet. Still holds a lot of beliefs from Alola's folklore that she was taught growing up, and tends to believe in things people tell her without questioning it sometimes. Often takes care of others around her, reaching out to anybody who seems troubled. Get very emotional easily, cries a lot.
Early Life
---
Ainakea grew up on Melemele Island, surrounded by the flowers of Melemele Meadow. Her father, Reuben, owns one of the top-rated restaurants in Alola. Her mother owns a popular little malasada shop that also sells curry and other dishes the locals consider "comfort food". Surrounded all her life by exotic aromas and flavors, she developed a very keen sense of smell and taste. So much so that her father often had her help with the flavor of many of his award-winning dishes and her grandmother often asked her to assist in developing new scents for her home-based aromatherapy business. When she was 5 years old, she was given an egg as a birthday gift, which hatched into a Petilil.
Adolescence
---
When she finally became of age to take on the Island Challenge, she set out with her newly-evolved Lilligant and... failed immediately. Unable to even get past the first challenge, she withdrew for a while until she suddenly had enough of being a coward. The passing of her beloved grandmother was a wake-up call, realizing that she if she couldn't stand on her own two feet, then she was going to stay down on the ground. Picturing Unova as the place that would make her stronger, she bid her family farewell and set off to live in Nimbasa, where there was sure to be a lively food scene from bakeries, to restaurants, even to street food.
Adulthood
---
Found work almost immediately at a crepe stand, living in a small apartment in Nimbasa while working there. She also volunteered and worked small part-time jobs here and there, such as at a plant nursery or at a small bistro as a cook. But the most lucrative job was with the bakery, which she had asked to work at when she met Ophelia, the old lady who owned the place. She was hired, and proved herself to be a skilled and talented baker, even introducing new recipes that were a hit with customers. Ainakea would also look after the old woman's granddaughters for short periods of time, which is when she met Sweet. As the years went by, Ophelia became ill and asked Ainakea to look after the bakery and take over when she was gone. Ainakea was as close as family to not just Ophelia, but even Sweet, her many siblings, and Sweet's parents. Feeling a sense of responsibility towards all of them, she agreed, and the bakery was hers soon after, with Sweet as her loyal business partner. Settled comfortably for a while, but decided she was too comfortable and getting back into old habits. With a regular named Gretel coming in for coffee all the time, they talked a little bit and she ended up getting roped into being Gretel's Multi Battle partner on the Battle Subway. The battles are heated and the motion sickness is hard to get used to, but she has her mind made up about becoming a better Trainer.
Physical Description
---
Attributes
---
Position
Multi Battle Partner
Been on the chubby side ever since she was a baby. Grew up to be tall, like both her mother and father. Prefers to wear clothes that remind her of home when she can, dressing in florals, bright sunny shades of yellow, orange, and also lush greens. Long, uncontrollable hair that she doesn't want to cut, so it's a bit wild even when she tries to make it behave. The flower on her head is fake, but reminds her of home, where she wore real ones daily. Of course, she smells a lot like flowers.
Design Notes
---
Themed to look like a Lilligant, her ace. Her apron is based on Shaymin Land Forme.
Above all, loves to wear feminine clothes. Rarely ever found in pants, sometimes wears cute shorts and leggings. Her favorite thing is her dark-green bolero, which she wears year-round and is rarely seen without.
Droopy, innocent eyes that shine like golden honey are key to her sweet personality. Lots of lashes, doe-like.
Paints her nails, colors vary between dark green, orange, yellow, and light green.
Inventory
---
Flowery Apron [ Apron ]
---
No baker is complete without their trusty apron. Keeps a lot of flour off of her clothes. But it does have "flowers" on it... Haha, good ol' apron... As a matter of fact, the design is based of a Gracidea flower.
Hibiscus Hairpin [ Accessory ]
---
Even if she can't wear a real flower all the time like when she was living near Melemele Meadow, she can still wear something that looks like one. Very rarely seen without it.
Nutrient Spray [ Lilligant Care ]
---
A small spray bottle filled with a homemade plant nutrient formula that keeps her Lilligant healthy and happy throughout the day, no matter how busy Ainakea is. It isn't a substitute for actual care, but it helps with the labor of caring for a Lilligant.
Team
---
Docile nature. Somewhat vain.
Held Item
Lilly
---
---
Moves:
Petal Dance, Quiver Dance, Leech Seed, Giga Drain
Ainakea's pride and joy, hatched from an egg on Ainakea's 5th birthday as a Petilil. Positively inseperable, the two are never away from the other's side. Pampered and a bit of a diva, but still wants to help Ainakea at the bakery. Gets set on fire from the oven sometimes but is taken care of so well by her Trainer that she recovers very quickly.
---
Timid nature. Alert to sounds.
Held Item
Bibi
---
---
Moves:
Fairy Wind, Sunny Day, Moonblast, Aromatherapy
Ainakea's stress reliever and precious little friend, she found Bibi when she was a young girl in Melemele Meadow. Bibi was looking for a flower and was interested in Lilly, but instead of choosing the flower on Lilly's head, Ainakea and Lilly helped her search high and low to find a flower she liked. She settled on an orange one, and having bonded with Ainakea during their little journey, Bibi wanted to stay with her. Ainakea even let her pick out her own Pokeball.
---
Jolly nature. Mischevious.
Held Item
Mr. Fee
---
---
Moves:
Draining Kiss, Flower Sheild, Grassy Terrain, Helping Hand
The last Pokemon that Ainakea had caught in Alola, this time in a real battle situation all by herself. He was relatively easy to catch, considering Fee had already taken a liking to Ainakea before the battle started. Tends to tease Bibi for being so shy and easy to scare, and likes to mess with Ainakea and Lilly, too. Apparently the reason Ainakea smells so unique and pleasant.
---
Relationships
---
Friends
---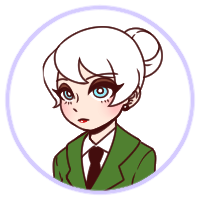 [ Multi Battle Partner ]
Ainakea met Gretel when she became addicted to the coffee served at the bakery for some weird reason. Hearing from Sweet about Ainakea's interest in becoming a better Trainer, she immediately dragged Ainakea into being her partner for the Multi Line. Even if she didn't appreciate the suddeness, her and Gretel are still very close friends.
---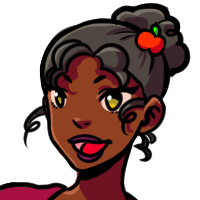 [ Business Partner, BFF ]
Ainakea's best friend and business partner who helps her run the bakery that formerly belonged to Ophelia, Sweet's grandmother. Also helps Sweet's parents by babysitting for them, looking after Sweet's many siblings when they're unable to watch them themselves. Pretty much considered family.
---
Acquaintances
---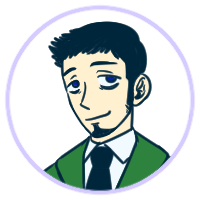 [ Friend ]
Met him through Gretel, got hit on by him briefly. She wasn't interested in the slightest, but the two are still perfectly amicable acquaintances. Accompanies Gretel for coffee sometimes, and stops to chat if he sees her at the Multi Line station with Gretel.
---
3rd cousins. They met once very briefly at a reunion. That's about it.
---
Enemies
---
She doesn't have the heart to hate specific people...!
Miscellaneous
---
Favorite
---
Genre
Romance, Slice of Life
Trivia
---
Actually quite scared of Ghost-types, having been raised around deeply superstitious family. Believes in some old wives' tales, such as keeping Flying-types out of homes to prevent tragedy.
Speaking of terror, she got quite frightened when she and Gretel got to the end of the Multi Line. The Bosses... their faces were covered in shadows... It was super scary.
Even though she's not picky in her enjoyment of food, it's very very hard for her to eat bitter foods. Even slight bitterness is difficult for her to tolerate. It's her one food-related weakness.
(special creator's note) Designed to contrast Gretel, she was made with the help of a friend in 2011 or so. Thank you for indulging me, Anna.