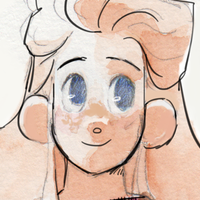 Profile
---
Madeline Dinkley
Age

ALL OVER THE PLACE

Gender

 

(cis) [she/her]

Sexuality

Bisexual (marries Amanda

)

Height

5'2" (159cm)


Madeline grew up on the tropical Island of Happy with a mom and a dad, and an older brother and younger sister. Her relationship with her family has always been bad, for no reason other than her mom bluntly saying she's never liked Madeline. 
Even still, her personality has always been very peppy and optimistic. She lives on campus during college, intending to get a degree that'd allow her to be a librarian

— but ends up getting pregnant. She decides to keep the baby since despite it being earlier than she expected, she's not opposed to the timing either. 
Her boyfriend of the time dumps her learning of this, and her parents cut contact [though encourage Madeline to continue going to college by paying for her tuition]. 
She has a baby girl who she names 
Elliot
. 
Madeline rents the cheapest room she can find near the university (which means her living with three other people) and does online classes for awhile, but eventually decides to take one in person class. In needing a babysitter, she becomes closer to a friend she had made in a class years earlier named Amanda — and through Amanda babysitting Elliot, Madeline and Amanda fall in love. 
Amanda temporarily moves in with Madeline, but after Amanda gets her degree, they buy a house on the coast and get married soon after. Amanda legally adopts Elliot, and they later have another daughter they name Lola.
Behind the Scenes:
AMANDA AND MADELINE ARE SOME OF THE MOST SELF INDULGENT CHARACTERS I HAVE OOPS!! 
I started making Happy Island as a story explicitly made to break my typical writing conventions, but still somehow managed to make this facet like my other stuff. Madeline and Amanda were made just as side characters like all the other kid's parents..... but I ended up getting really attached to them. 
I list her age as all over the place because I often draw the time around her early 20s when she's falling in love with Amanda, but during the canonical Happy Island story I'd like to make (where she's just a background character) she's 32.
Trivia:
 

Madeline loves crocheting/knitting/sewing and runs a small online store for it.

This is the income she and Elliot live off of when Elliot is first born (along with shoplifting some more essential items, but shh). 

Doesn't swear, instead uses comically clean phrases like "good golly"

Dinkley isn't her last name originally, 

it's Amanda's, 

which Madeline takes when they get married.