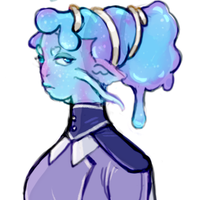 Profile
---
D'meter is a first generation Calcaeian, and her parent was a Natural Birth.

As is common with such "reset" lines - the term is sort of derogatory - her mother joined the military, and D'meter maintained the association - opting to push towards a commission in Research & Development - that is, she's officially a government scientist.

Even if the expedition is sponsored by the government, a majority of it's members do not have a government commission.

D'meter follows every regulation she can find - in her work, in her dress. She documents every proceedure she undertakes - which might be compensating for the fact that if she weren't assigned to this mission, she questions if she could have qualified for it purely on merit.

No, there is no regulation on separating colors.