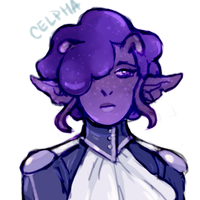 Profile
---
Celpha is the Resource Gatherer most likely to volunteer for a long-range gasses collection mission - which takes her to other planets in the solar system, rather than the local asteroids.
When she's not on one of these missions - and they can take weeks, but they are ironically neccesery for fuel collection so gathering can continue - she's seen as standoff-ish. Reserved.

As Iu'husid isn't really known for having hermits, as seems to be her wont, it's questionable how she conducted herself before the mission - or if she actually hates her decision to sign up.