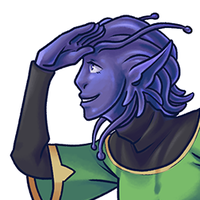 Profile
---
Iara's shade is one reserved for those whose lines have spent several generations growing up outside the influence of a star - or behind the heavy shielding of a spaceship.

Basically, the "Moden era" has had 6 generations; three before the goos negotiated for Short Jump Drive, and three after. Almost everyone of the darkest shade has ancestors that rode through the earlier era on much slower ships - years in transit instead of months.

So the food had to be great to keep the crew from going crazy. And nobody is going to go crazy from homesickness with Iara feeding them - even the mixed crews.