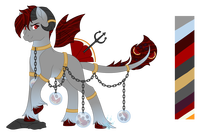 Profile
---
Cocktail: Blood Orange Blackberry Rum Punch
Link: heatherchristo.com/2016/02/17/…
Recipe:

Ingredients
1 cup chilled blood orange juice
4 (12 ounce) chilled natural blackberry sodas (I used IZZE brand)
1 cup rum
¼ cup fresh lime juice
1 cup fresh blackberries
1 blood orange thinly sliced
pansies to garnish (optional)
Instructions
n a large pitcher filled with ice combine all of the ingredients. Stir gently to combine.
Add several blackberries and an orange slice to each glass and pour the punch into the glasses. Garnish with a pansy if desired and serve immediately.
Triat:
Party Type (common)
Bat Breed(uncommon)
Decoration on Tail/Straw x1 (common)
Citrus Tail Fruit (common)
Ice Cubes - Simple Shape(round) (uncommon)
Unicorn tail (rare)
Glass Hooves (super rare)
Complimentary Inedible x>1 (more then 1) (super rare)
Shaped Pupils (super rare)
Fruit infused cocktail (super rare)
Floating Cocktail Wings (founder/admin)
No straw/skewer (founder/admin)
Devil Horns(Halloween trait)