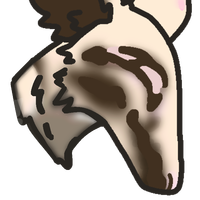 Created

1 month, 10 days ago

Favorites
Profile
---
~Ashe~
Gender; 
Female
Pronouns; 
She/her/They
Sexuality; 
Straight
Relationships;
Char name~What Ashe sees them as~How they met
Char name~What Ashe sees them as~How they met
Char name~What Ashe sees them as~How they met
Char name~What Ashe sees them as~How they met
(Feel free to pm me about adding one of your chars to this list!)
Species; 
Unknown for sure, estimated as some sort of opossum-dragon
Personality;
Bubbly, quite sweet if you get to know her. She is quite sassy, but her compassion can snap her into it.
Physical Traits;
Ashe Has the body form of an opossum, and has very short fur. Her ears are abnormally large, and she is a creamy pink with deep dark chocolate stripes. Her tail is a warm grey with creamy pink stripes, she has a few spots that are the pink color as well. Her head is larger towards the ears, and gets smaller towards the front of her face. Her face is skull-like, having no eyes, and and odd nose. She is slightly bigger than the average timberwolf.
Strengths;
~Peaches; she loves them, and they give her strength.
~Friends; she needs them now, more than ever
~Hugs; she loves snuggles and hugs, her fur is very short so they keep her warm.
~Her teeth; they are sharper than knives
~Her tail; full of rock-hard bones, and many joints, you won't want to get slapped by this tail!
Weaknesses;
Bullets; her skin is just as thin as her fur, leaving her exposed to bullets and other sharp weapons.
Anger; it gets the best of her sometimes, causing her to hurt people.
Any predators larger than herself; A lot
Age;
Around 17 in her years