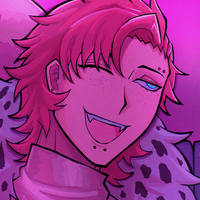 Profile
---
Gender
Male
Birthday
Feb. 7th
Age
29
Sun Sign
[♒]
Species
Human
Orientation
Pansexual
Occupation
???
Nikol
Nikol's profile is a WIP!
---
Peace and love. Vibes and friendship. Nikol is laid back and mellow perhaps to a fault at times. Probably too willing to give too much of himself up for others. Believes there's good burried in everybody, but also isn't so dumb he thinks evil doesn't exist. Wants to see everybody happy and living their best lives, and, even if he can't do much, he is willing to be there to be a shoulder to lean on when his friends need him.
Probably too devil-may-care for the taste of most---but you might as well enjoy the life you live even if it's reckless, he'd say.
Buys Valentine's Day merch even when it's incredibly out of season just because he likes things with hearts on them. He doesn't care what it is, as long as it's cute. hearts are cute. Love is cool.