Profile
---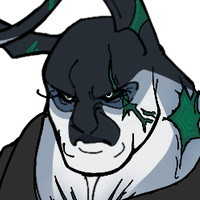 SWORM
WARLORD OF THE SWORM EMPIRE
loyal • short-tempered • fierce • ruthless • persuasive • power-driven • fearless
---
Sworm takes what she wants, which is what she thinks her people deserve, and decides for them what they need. Even 3,000 years spent ruthlessly conquering planets and worlds have not satisfied her—evidently eternal—thirst for power. 
And even without the help of her Second in-Command, apparently. Though it does seem like she might need Pénurie back, considering the price she put on her head... 
... Because of her desertion, of course.
design notes
Always has some kind of scars/battle wounds healing up on her body or face/antenna 

Antennas are sensitive but often get ripped off/blasted during battle 

Antennas always face forward (with a very droopy one) unless she wears her battle helmet pushing them backwards 
trivia
Ridiculously difficult to exterminate 

Since Sworm absorbed a planet core, she possesses planetary-core powered pulse attacks that she mainly shoots from her left arm and chest

Prefers to punch first and think later

She only has patience for people who can hold her interest long enough

"Sworm" is actually the nickname given to her army that she (humbly) wears as hers
Never happy, consistently scowling, Sworm always looks unhappy at best and angry at worst. She has an explosive temper constantly threatening to emerge at the simplest of issues and her ego is just as big, making for a very dangerous cocktail.
Sworm has the power and muscle to match her attitude and will never give a second thought to crushing you if you are in her way or disobeying orders. Despite all of this, she is a somewhat impartial Commander when you play by the rules.
Sworm will never jeopardize you or your work if you do it correctly, and might actually reward it—unless of course you are Pénurie, in which case fairness is rarely on the agenda.
adopted son once Pénurie joins back
---
Medien is Pénurie's biological son and only becomes Sworm's adoptive one once Pénurie rejoins the ranks. He is very cautious at first but Sworm is very much the gruff parental figure you can imagine a 22,000 years old warrior to be. 
Pénurie trained Medien to be able to survive on his own in case something happened to her, so she never allowed for very much emotions to show, but once they are back with Sworm and comfortably settled Medien becomes quite spoiled. Maybe being the leader's offspring comes with a few advantages after all. Who would have known.
Chief Communications (Public Relations) Officer — Third in-command
A
Within the chain of command, Lambda is Sworm's most trusted advisor and confident. The two of them go way back, started off as war friends and investigators of the parasite's revolution. Sworm trusts Lambda like no other and Lambda's loyalty is absolutely unshakable.
Ennemies have tried to separate them in an attempt to weaken the parasite's army leadership, but none succeded. Whatever bonds these two is a death deal.