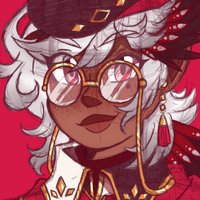 Profile
---
🔥 vivien lacroix 🔥
the red-handed warlock
♦️ ♠️ 🍎 🗡 🔥  🗡 🍎 ♠️ ♦️
🎵 ~ if they knew what they said would go straight to my head
what would they say instead? ~ 🎶
---
🗡 basics 🗡
name: vivien alexandre lacroix
species: harpy / elf
ethnicity: ????
birthday: march 22
age: early-to-mid 20s
gender: nonbinary masc
pronouns: he / they
orientation: demiromantic 
profession(s): former student / acolyte, traveling merchant
---
🍎 appearance 🍎
skin: dark skin with pronounced cool undertones
hair: gray-white
eyes: pinkish red
height: 5' 10" / 178 cm
build: skinny
other characteristics:

freckles on face, shoulders, and down back
beauty mark under left eye
red and black vestigal wings on back
red and black feathers growing in hair, down nape of neck, around neck, and on arms and legs
bird-like lower legs
---
♠️ personality ♠️
alignment: chaotic (good / neutral)
enneagram: 4w3 (self-preservation variant)
jung / mbti: entp-t
sloan: sluen (primarily social)
temperament: choleric / melancholic
zodiac: aries (w/ pisces cusp)
positive traits: creative, clever, observant
neutral traits: chatty, determined, sensitive
negative traits: abrasive, pessimistic, unreliable
with sharp eyes and a silver tongue, vivien can easily charm any person he comes across. his seemingly gregarious demeanor draws people to him, and his intelligence assures that he has something to talk about once they're in his orbit. his web of acquaintances is wide and varied, and he would be the perfect person to add to yours if he wasn't the type to sell you to satan for a corn chip.
...okay, so vivien's not that bad, but if he sees that it's more advantageous to throw someone under the bus than it is to keep them around, then under the bus they go. vivien is opportunistic as all hell, always scheming for ways to make things easier for himself or to one up whatever person is pissing him off that week. his true friendship is rare, and his utmost trust even rarer. fuck him over, and you will not get them back.
---
♦️ trivia ♦️
favorites
books: mystery, horror
drink(s): strawberry milkshake
food(s): key lime pie
fashion style: emo grunge; the last things hanging on a thrift store clothes rack; holey jeans, oversized shirts and jackets, and well-worn tennis shoes
movies / tv: suspense, horror
music: emo music
hobbies: reading, sewing, lockpicking
interests: eldritch beings, necromancy
other likes: cats, smart-asses, three-course meals
dislikes: petrichor, smart-asses, being looked down on
symbols
animal: bearded vulture
colors: black, blood red
elements: fire, air, metal
flower / plant: coriander
major arcana: the chariot
mineral: mahogany obsidian
playing card: ace of diamonds
scents: clean laundry, cinnamon
sin | virtue: envy | diligence
---
🗡 stats 🗡
| | |
| --- | --- |
| strength | ⚫⚪⚪⚪⚪ |
| agility | ⚫⚫⚫⚪⚪ |
| dexterity | ⚫⚫⚫⚫⚪ |
| constitution | ⚫⚪⚪⚪⚪ |
| intelligence | ⚫⚫⚫⚫⚪ |
| wisdom | ⚫⚫⚪⚪⚪ |
| willpower | ⚫⚫⚫⚫⚫ |
| charisma | ⚫⚫⚫⚫⚪ |
| magic | ⚫⚫⚪⚪⚪ |
| luck | ⚫⚫⚫⚫⚪ |
powers
minor pyrokinesis — vivien can summon small flames in the palm of his hand. the flames become unsteady and unpredictable if he tries to make them any larger.
h̨̧̛́̀i̛̕҉m͘k̸̸̡̧͟ ̶̛m̡҉p̵̷̧͠h͏ ̵̸̡ų͢c̶͢w̵͜l̵̡ ̶̀͟͝͠ȩ̀͠҉ḱ̴̢͡x̡̕̕q̡̕ ̵̧g̵̴͟w̨̧̛͜͝ ̴̶—҉̷̡̕͜ ̶̧̕B̴̀͞͡ ͘i̢͏͏͢҉ǫ̛́̕͝ ͞X̷̸̛͘͜q́͝y̷̕͢ ̴̕͟͢B̴̛͞n̵̸̢̕̕l̴̴̡̧í̀́͜͏i̵̢̡͠,̴͜͡ ͡͝C̢̡b̴̡̛ẃ͘ ̷̷̀͢C̴͘͘͘͜c̛̀͠t҉̵͝͠c͘͢,̴̶ ̶̧̕͜͡j̴̷̴̡̕h҉̷̕͢v̷́ ̷́͞M͞͏̨p̴̨̀͝g̸͠ ̀I͏͏g҉̴̷̀͜y͜͡u̸̡̨͢n̷͘b̡҉̶ķs̵̸̨̛͠w̸͏y͘͢͞j̨̢́͢͏.̴̛͝͏ ͡B́͜ ̵̸̛e̶͟͟͏͡ķ̶̛͢͞p͏̧̨͞u̧̢͘ ̵́͢l̢̨͘͝w̛̕̕͠m͏́͝͡͠ç͢͝t̸͡ŕ̶̷̢ ̀͘͘͘j͟h̷̢͝͞͝v́͜҉̵ ̡̛k̸͡q̨̛͘͝i̵̸ļ̶͜͜͝ç̶̡ ̸̸̶̡n̛͜z҉̶̕͟x̀͟͢͡ ̡ȩ͏͠t̡̢͡s̷̀w̴̛͟͢͡a̸̕k̷̢̢̨̀ ̴̸̢͘w̵̸̢̨ẁ̷͘͢͞p҉i͟͜ ̨̨r̨͘͟͢ḩ͘ ̵̸̶͞͠l͏̶a̸͘m̴̀ ̢͠͏҉y͏̛̀͢s̶̡á͘f̷̴̨̛͜v̵͘҉̴͝.̸̸̛́͝ ̧͜͞B̡̕͟ ͏̨̀͝͠à̡j̕͠e̷̡͢͝͡u̵̸͝f́͏ ̷͟ų̸̨̕h̨́҉̸z̡͘̕͢͞t̷̀͘i̴̡҉l͟͞ń̵̵ ̸͟͏͘ĺ͘͞a͏҉̨m̡͘͏͏͟ ̢͢k̴͏r̢ş͘͘͟o̕͡҉ḱ̷̢̕m̧̀͠͝q̕͏̶́e̸̛͝i̸̢͘͜ ̶̨f̧͞l͏̨g҉̀͞͞n̶̷̡̢o̵j҉̢͢x͏҉͏̨͞ ̀̕͢͢j̧̧́͟͟a̵̕͟͞͞s̵̶͟b̶̵̴͜v̶̕҉̷̡u̕͟͠x̀͢ ̵̨̕͟v̀͏̡̨y͜͞,͏̵̵̕͞ ̷̴̢͞s̡͡g̸҉͡͡l̵҉ ̸̶̧̕ć̶͜͡p͟͢͡͏u̸͟ ̶̴͜͝q̷̶̵z̶͝͞h̴̀͜͠͝ ̷̶̷́̕ą̀͜v́͘͟҉͟e̷̵̕̕͜w̡҉̶̛x́͟ ̵̸͘x̴҉̸h̢̨̛͠z̵̸̡ ̷̸̡͞͠k̸̕͢͏̨x̸̢̛͟ ̶̢́͜f̷̧͜͜c̨͜d̛̀̕͡e̴̷̸̢ ̸̛̕̕͏x̴͘ǵ̸̨͢͡v̸͜r̵̵͝͞m̵̕z̡ ̶͢͠t͝͏̴̢͜v͢͏̡f͜ ̶̡́f͏̢̢ǹ̨̛͠ ̨́̀͝j̢͘͟͝m̸̴̛͠͏ķ̵ǫ̡̨͘g͞h̷̴̨͏͝ ̴̡o̴̷̴ļg̴̸̢̛͞f͜͜ ͘͞͠͝b̡j̴͘͟͟m̸͠͝͡b̀̕͏̛͜ ̴͝f͟҉̡s͜͜͝g̶̵̛̕͟l̴͏̡̧͘.̛͝
inventory
the staff of athrendiel — a weapon not of this mortal realm. it always feels cold to the touch, no matter what environment it's in. you can hear ẁ̢͢h̴́͢҉i̷̷̷͘s̶̶̡͜͡p̨͠ę͢҉̨r̢͘í̢͜͢ǹ̛͝͝͝g̶͘͡ on the edge of your hearing whenever you're near it. greatly increases magic and greatly decreases wisdom and willpower.
lockpicks — a good rogue never leaves home without them. increases dexterity.
---
🍎 history 🍎
vivien lacroix has clawed his way up from the soil to the sanctuary, almost literally. from being born on a barren farm on the brink of collapse to attending one of the most prestigious religious schools in the city, he has begged, borrowed, and stole for nearly everything he has.
unfortunately, his time at the academy of the blessed and blighted did not improve his lot nearly as much as he would've liked. the decorated teachers and the noble-born students immediately sniffed out his lowly peasant status, and many endeavored to make his life as hard as possible. his drive to survive was very quickly funneled into the burning desire to show up the prissy rich bastards and dish out as much hell as he was getting. the harassment slowly got to him, however, and he soon decided to fuck the school over one last time.
on the eve of one of the school's holy days, vivien broke into the vault holding its many priceless artifacts, intending to steal as many as he could. but when a trap was triggered and guards swarmed the vault, he was only able to grab one — the staff of athrendiel — before escaping and peacing out of the school for good.
now having thoroughly burned his bridges and having been branded a fugitive in his home town, he travels the roads and generally does whatever he wants, selling fake indulgences and good luck charms to fund his wandering. it's a pretty sweet life, all things considered. now if that staff would stop talking about wanting to kill everyone he could properly enjoy it...  
---
♠️ relationships ♠️
keimora hallowfell — former classmates. they bonded over taking the piss out of everyone else. the one person he could stand at the academy, but she disappeared halfway into his stay. he kinda misses her.
---
♦️ miscellaneous ♦️
vivien is well-aware he looks like a little ol' granny when wearing the right clothes, and fully takes advantage of it when scheming.
one of vivien's nervous tics is petting at his feathers and messing with his hair. he's trained himself to not do it in public but he slips up when he's frustrated or panicked.

he also tries to not pet at his hair / feathers too much because he set himself on fire with his pyrokinesis once when he was a kid and freaked himself out.
on that note, you wanna get him relaxed like instantly? pet his feathers. if he trusts you enough, he will melt.