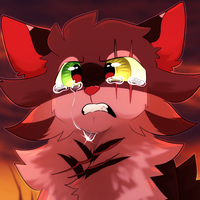 Profile
---
Before RP
CW: Abuse,Muder,Death.
Wormkit was born with his two siblings, Flintkit and Skykit to his mother Emberflame and Father Pricklehaze. Because their parents were either super absent (Pricklehaze) or abusive (Emberflame) the three siblings stuck together and were super close- almost doing everything together and always supporting each other when their parents fought or threatened them. Wormkit quickly built a reputation around camp to be a troublemaker that most got annoyed by.
All this was until Emberflame had found out Pricklehaze had been cheating on her which tipped the already possessive and jealous molly off the edge completely. In a snap fit of rage and revenge, Emberflame drowned two of her kits, Flintkit and Skyykit, when they were playing by the river one day. In her mind the kits were nothing but a reminder of Pricklehaze and she hated being their mother already.
Wormkit witnessed this althught wasn't near the river for Emberflame to see until he cried out in fear of what he just saw. Emberflame, planning to kill him too, attacked him but Wormkit managed to wriggle his way to freedom and ran away from the clan. Emberflame took chase but soon realized he'd die out there anyway as he wasn't even anywhere near apprentice age yet.
Returning to camp with her two dead children and an act to fool any unsuspecting cat, Emberflame broke down and yowled about Wormkit drowning his siblings- whether it had been by accident or purpose she did not know and she seemed distraught he had gone missing too. Most cats believed her show and since Wormkit already had a troubled reputation, didn't question it too much. Emberflame was free from raising kits she didn't want…but Wormkit was far from free of the horrors he'd witnessed.
Wormkit wandered the world alone for who knows how long, only barely scraping by. He mostly lived off crow-food scraps and small bugs he could manage to catch which severely stunted his growth later on in life and led to some pretty bad eating issues. Most nights were spent alone and cold, sobbing wishing his siblings were here by his side. Eventually Wormkit found a small snail to which he named Zoom's. He talked to the snail as if it were a cat and brought it along on his 'adventures'. If it wasn't for this snail, Wormkit wasn't sure he'd have the motivation or drive to keep on fighting for another day.
All this soon led Wormkit to discover a small group of rogue cats who assumed he was a rogue too. Their leader Crows-call didn't hesitate to let the starved tiny kit join them and help for their cause. Wormkit thought he'd hit a stroke of luck finding these cats, although he had no idea this group was not a safe place to live and soon adopted their toxic mindset of power and revenge- putting all that focus on the one cat he hated the most…Emberflame.
During RP (working on re-writing more detaild)
As time went on and Mireclan was created Wormpaw set himself on training so that one day he can take revenge on his mother. After moons of planning, Wormpaw set out to find his mother. Unfortunately he found an apprentice called Sunshinepaw...Who happened to be Emberflames new daughter with a new mate. Emberflames lies about what she'd done along with Wormpaw's aggressive attitude sparked a fight between the two that ended in Wormpaw killing Sunshinepaw in-front of Emberflame.
Following Sunshinepaw's death Wormpaw felt horrible and guilty, always trying to justify what he'd done as if she deserved it. With these feelings of guilt, Wormpaw started missing his father and wondering why he did the things he did. Wormpaw held no blame or anger in his heart for Pricklehaze- only the desire to reconnect and prove he's worthy of forgiveness.
Upon meeting a Brookclan apprentice Called Sunpaw for help finding him, Wormpaw met his father who was not happy to see him at all. Pricklehaze believed Emberflames lies that Wormpaw had killed Skykit and Flintkit - added with the knowledge he killed Sunshinepaw. Pricklehaze attacked Wormpaw , wanting to protect his clanmates from the cat who killed what he assumed was 3 of them. Wormpaw snapped and murdered Pricklehaze in retaliation, not understanding why he attacked him. After this he threatened to kill Sunpaw who had seen him do this and had a major fight with his best friend Autumnpaw.
Wormpaw became Wormshell and no longer believed killing Emberflame would make him happy. He slowly became closer with his friends and the newly named Autumnsong! Life was pretty miserable for Wormshell, now having to live with the guilt of muirder and nothing but numb depression he could only escape from around those very few he loved.
Unknown to Wormshell, Autumnsong had romantic feelings for him and was about to confess before the two were interrupted and attacked by Emberflame. She come for revenge upon losing several mates, friends and anything she held onto in her clan…including the kit she loved and Wormshell murdered. After a nasty battle, Wormshell managed to claw Emberflames throat out, but not before the crazed she-cat could inflict serious harm onto the two toms.
Wormshell succumbed to his wounds and could no longer carry on. His last thoughts were wishes to stay- to be with the cats he loved and thank them for never leaving him in his worst time…but he couldn't tell them. In the end, he managed to confess his murders to Autumnpaw and and slowly died of bloodloss.