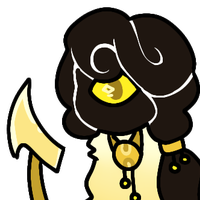 Profile
---
Charlotte

Cha'Latte

---

Species

Felsylian

---

Age

Unknown

---

Occupation

Hermit

---
Cha'Latte
Charlotte
Female
---
"Hey! Back off! This is my territory! Get outta here or you'll get cut down!"
Cha'Latte is a very aggressive Felsylian, much more than the average Eyes Felsylians, which are normally quite docile. She won't hesitate to cut down anyone that doesn't heed her warnings about her territory. She lives in a small shack in a forest, far away from any civilization. Nobody really knows why she's so aggressive and territorial, because nobody's ever been able to have any sort of conversation with her and live.
She has a curiosity for how she can use bodies from those that got too close to her home. Usually this involves using the tentacles of Felsylians as a decoration, or if she decides to, makes small pieces of furniture with them. It's quite gruesome, but she enjoys it a lot.
Likes
---
Staying alone
Sharpening her axe
Seeing how she can use bodies in creative ways
Dislikes
---
Anyone coming near her home
Seeing someone be attacked unjustly
Finding her axe to be misplaced
profile html by Hukiolukio