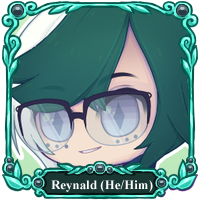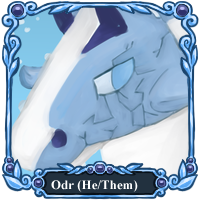 Reynald (Odr the Glastrier)
Profile
---
Odr
Lv. 79
Title: The Conquest Stallion
Held Item: Never-Melt Ice
Status: Alive/Active
| | |
| --- | --- |
| Species | Glastrier |
| Type | Ice |
| Gender | |
| Dynamax Level | |
| Occupation/Role | God of Detachment |
Your name is Odr. That wasn't always your name. You had another, but you have forgotten what it was. You know the form you currently take wasn't your original one. From the shards of your old life, you recall your old body was destroyed by the flames that burn down the [REDACTED]. You're not sadden by the loss as your son (Cain the Keldeo) managed to escape with his life. Other than your partner, your son is one of the few things you care about the most in the world. Your owner is Reynald the Calyrex, and he's not the worse guy in the world. However, you're not going to admit that and will continue to try to bite him. You are a belligerent God that tends to keep to yourself most of the time. You are often prone to lash out at other without a single care in the world. The only respect you have is for your partner and Cain. You accept all offerings of Iceroot Carrots. After all, who wouldn't like the taste of them?
Lonely Nature
Discovered in Old Cemetery
Currently in Katsu's Ranch
Does not evolve.
Capable of taking hits
HP
100
Attack
145
Defense
130
Sp. Atk
65
Sp. Def
110
Speed
30
Total
580
 
Ability
Chilling Neigh
When the Pokémon knocks out a target, it utters a chilling neigh, which boosts its Atk stat.
 
| | |
| --- | --- |
| Normal | Swords Dance |
| PP 32/32 | A frenetic dance to uplift the fighting spirit. This sharply raises the user's Attack stat. |
| | |
| --- | --- |
| Fighting | Body Press |
| PP 16/16 | The user attacks by slamming its body into the target. The higher the user's Defense, the more damage it can inflict on the target. |
| | |
| --- | --- |
| Ground | High Horsepower |
| PP 16/16 | The user fiercely attacks the target using its entire body. |
| | |
| --- | --- |
| Ice | Icicle Crash |
| PP 16/16 | The user attacks by harshly dropping large icicles onto the target. This may also make the target flinch. |
Height: 7'03" (2.2 m)
Weight: 1763.7 lbs (800.0 kg)
Build: Bulky
Egg Group: Undiscovered
Leveling Rate: Slow
Special: After the events of Crown Tundra, Odr is found with a blanket and beads seen here as a gift from Reynald. The side of his ice helmet covering his face is cracked on the right side of his face and his eyes is visible.