Profile
---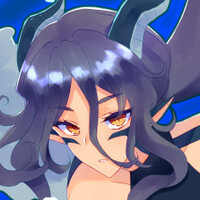 Korall
Personality
Korall is polite, but not particularly sociable. As a child, he was terrified by the world outside his underwater cave, to his father's worry. He has now become braver, and even lives in the sea that borders the large city of Quallan, although he still tends to hide away in the depths when overwhelmed.
Background
Korall is the Dragon of Origin's fifth child, making him the second-to-last one. Due to being water-aligned, he was raised deep under the sea by Kellerys, until he reached his first millennia, and thus, adulthood for a dragon.
He spent a long time living in the depths, rarely surfacing to visit his family, until he finally settled down in the sea that borders Quallan. He became their guardian deity of sorts against his will, regularly receiving the prayers of the people.
He was present during the debacle between the demon Nys and demon hunter Climea, and managed to stop them from killing each other. However, because he knew both of their identities, he felt responsible for the conflict and hid in the sea, overwhelmed with guilt.
Design Notes
Base colors
Bioluminescence
Outfit colors
Typically just wears a one-piece swimsuit, sometimes adds pants and/or a jacket.
Eyes, markings, webbing, tail, and horns glow in the dark..
Trivia
Korall's true body is very long and somewhat amphibian in nature, and typically swims very close to the ocean floor.
He doesn't use any wyvern body, and only one drake body.
Like all dragons, he is intersex, but also sterile.
credit
(Code heavily edited by me)