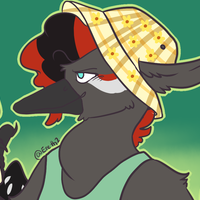 Profile
---
Arlyn | Woodpecker | Female
Body type: thin and petite
Feathers: dark gray body with red and white markings. Wings and tail are black with white speckles.
Hair: red with black stripe on each side.
Feet: darker gray with silver claws
Eyes: cyan
Flesh: grayish pink
Outfit of choice: overalls and a red flannel
Arlyn is spunky. She is a tom boy and makes sure everyone knows. She is expressive and a bit of a klutz as well.
Arlyn is to be drawn plantigrade with wing-like hands—meaning the end feathers are her fingers. Please do not draw her with thick thighs or wide hips. She is petite and small.
Design credit Felistellar.