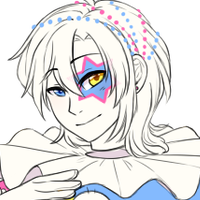 Basic Info
---
Moveset

Mind Blown, Protect, Magic Coat, Trick
Profile
---
Ref still to be finished!
  A very skilled performer, what August loves the most is making people smile. She has a knack for cheering others up and making them feel safe, thanks to the welcoming and comforting aura that surrounds her
  August has a distinctive selfless mindset; despite wanting everyone around her to be happy, it's quite hard for her to let others in and do the same for her
  When not surrounded by Pokémon watching her tricks, she usually spends time alone, introspecting. She also appreciates Tokei's company during such times, as she doesn't mind August's necessity of quietness and lull
  She enjoys listening to music a lot! Happy or soothing tunes - specially lullabies - are her favorite, as they help lifting up her spirits when she feels low on emotional energy
  A peaceful being, it's ultimately hard to anger her; however, condescending behavior and mean manners will get you on August's bad side, given her overprotective nature

Other details:
  Her best tricks are acrobatics involving dancing and balancing, but she also knows how to make use of illusionism with her Magic Coat move
  August is a selective mute. She can talk and sing well, but no one other than Tokei has ever seen her doing so, and even such occasions are extremely rare and unusual between the two of them
  Gijinka: Her head is detached from the body. While not being maneuvered around by August for her ultimate move, Mind Blown, it stays still in place, floating above her shoulders
  Despite being referred to with female pronouns, August doesn't particularly mind which pronouns are being used to her and will accept any.