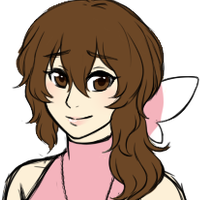 Basic Info
---
Moveset

Stomping Tantrum | Flail | Return | Endure
Profile
---
Ref still to be finished!
  Used to feeling unwanted by others, Tokei grew up to be really lonely. She feels uncomfortable around unknown folks, and has developed an aversion to touch
  Because of her gloomy personality and loneliness, she attracted August's attention. Having never felt safe around a stranger before, their kindness made her not feel like an outcast for once, and thus she found her very first friend in them. Sharing many similarities on their personalities, as time progressed so did their feelings for each other
  Thanks to being used to spend time on her own, she developed hobbies that don't require social interactions. She enjoys making stuffed animals and plushie dolls which, despite her clumsiness, are very well done and often make for good gifts that bring happiness
  Easily impressionable, Tokei is an easy person to amuse. Pretty things like fireworks, colorful things like toys and small and cute objects like miniatures lift her spirits and give her optimism to face hardships

Other details:
  Tokei is usually calm and soft, but she panics very easily due to social trauma. When under a panic attack, she'll throw a Stomping Tantrum and can only be stopped by August, who will sing lullabies until she has calmed down
  The winding key she carries on her necklace means a lot to her. It used to belong to an old grandfather clock she was particularly attached to
  Gijinka: Her sewing bag is meant to resemble her feral form's tail when seen from the side view!
  She's a klutz known for causing mild accidents such as dropping things, tripping on her own feet or pricking her fingers with her sewing needles; because of that, she always has spare band-aids on her, and her hands are usually seen with lots of these.