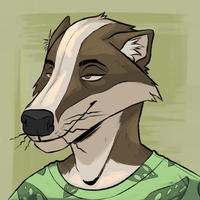 Profile
---
Hektor Kikowi
Name
Hektor
Age
18
Pronouns
He/him
Birthday
June 5th
Orientation
?
Occupation
Student
Species
Badger
Bodytype
Short
Height
1,20m
ABOUT
Hektor prefers to be around his buddies Fluffy and Lui. Without them, the days are only half as fun and he starts to feel bored quickly. However only Fluffy seems to have time these days.. "hm who knows what Lui´s is doing, perhabs he´s just busy with school work or his parents??"
Living in the little village all his life, Hektor likes to go outside to nature and hiking in the area. He also loves to take photos of wildlife and beauitful scenery whenever he gets the chance to.
PERSONALITY
Hektor is very quiet, shy and introvert but needs some friends around him. He often behaves immature and also avoids any contact to girls. He´s kinda trapped in the mind of a 12 year old for the most part. He also can´t stand romantic movies or anything envolving love. However, he´s not assexual. The fact that he advoids that much on this topic is mainly fear.
He´s very friendly and kind when you get to know him. He´ll definitely help you when you need it.
"Just another great day, like all great days!"
Notes
has pantigrade legs and feet, not digigrade.
loves nature and the smell of wood
prefers wearing short clothing
!! his whiskers are ruffled