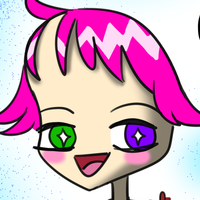 Basic Info
---
Eye color

Green (right) and Purple (left)
Profile
---
1-1-2021 my friends challenged me to make a drawing that has a lot of "art sins" in it. I ended up taking a bit of a detour and making hotdog-chan, a character who embodies a lot of the techniques I used in the early 2000s!
hotdog-chan has a very large forehead, no ears, a very thin neck, backwards hands (at least one), and heterochromia. She talks in early 2000s internet speak with lots of XD's and uses the word "smexy" without really knowing what it means. hotdog-chan's favorite thing is tricking people into taking cursed hot dogs from her which will inevitably cause their drawing style to regress.
Special thanks to @evilstaplers, ichigogoooooooo, and @kybymyby for making very good suggestions while I was creating the original drawing live on stream!