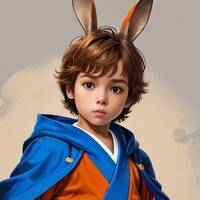 Profile
---
"What's your story?"
Chance Demon Lore keeper Homeland
studious, imaginative, innocent, observant
Design Notes
Design Notes
Rabbit ears, they are very flat though.

No human ears, the rabbit ears connect where the human ones would.

Looks between the age of 8 and 12
A demon child left to fend for himself after both his parents perished in a river. He would wander as a vagrant from village to village, collecting legends and stories in the massive scroll wrapped around his waist. Aside from his strange occupation, he is a normal child, and enjoys playing with village children and sampling every sweet treat he can afford. He makes a living begging and telling stories written in his scroll, although some have noted he never reads from it, only writes.
He claims to be cursed by a water demon to collect stories. No one believes it. They just think he's odd.