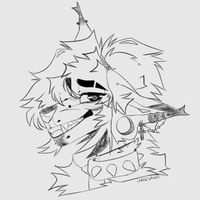 Profile
---
Caleb (also known as Kay) is a non-binary masc canine/lynx hybrid. They consist of a canine body and behavior while having the long ears of a lynx and the tail of a leopard.
Kay's a very sweet kid who just wants to make friends with the people around him sadly however, the other male wolves and canines at his high school use him as a punching bag. Kay has been bullied his entire life for being the way he is, his father is a purebred canine, mother is a lynx, Kay's mother died 10 years ago when he was only 7.
The loss of his mother caused his father too become hostile towards him mentally and sometimes physically. Kay grew up in a very cold and stone hearted home through out his middle school and high school years. Kay's father caused Kay too have panic and anxiety attacks along with meltdowns and painful head aches making it almost impossible too function in high school.
childhood (wip)
---
Teenage hood (wip)
---
Caleb's best friend (cannon). Best friends since elementary school! no one understood why Ashe showed Caleb kindness but, nether the less they both have a soft spot for each other. Over the past few years Caleb has been starting too feel different towards Ashe...almost wanting to be more then friends.