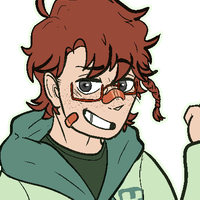 Profile
---
Watson McCall
This animal's programmable, the notes are on the screen!
---
---
video games
blinking monitors
lines of code
pixels & bits
sharp objects
virtual reality games
pixel art
online gameboards
---
Likes
---
pirates
video game soundtracks
receiving compliments
braiding people's hair
beatboxing
snack foods
programming
Disikes
---
cowboys
rough textures
origami
traveling/new places
overbearing people
turnstiles
jack-in-the-boxes
Strengths
---
adventurous
confident
adaptable
passionate
tenacious
Weaknesses
---
compulsive
rowdy
confrontational
self-destructive
hostile
---
Watson's hair is untamed for the majority, except for one sole braid that he keeps loosely tied to the left of his face with one green band!
Small, black horn headband is optional, but preferred! The horns poke up through his hair while the headband is concealed by it.
Most often wears two bandages on his face, one atop the bridge of his nose and the other on his right cheek!
Covered in freckles; they're everywhere.
---
Watson is the caretaker of a small, syrian hamster by the name of Teddy! They're best friends. Also, he claims that Teddy is the only person who really "gets him".
Personally, he finds the concept of lagging out P2W public Minecraft servers to be incredibly funny. Not saying he's engaged in it, but he's definitely engaged in it.
Don't get too close, he'll bite! No, really. He'll do it.
Carries a handful of small, clacky things on his person. Things like dice, coins, etc.
He can fluently speak Scottish Gaelic!
---
Favorite Color: Pale green
Favorite Beverage: Hot chocolate
Favorite Food: Cosmic brownies
Favorite Season: Autumn
Favorite Scent: Toasted marshmallows
Favorite Music Genre: OSTs & Soundtracks
Favorite Animal: Crabs
---
8 Wings: Unfinished
Deciding Fate: Unfinished