Profile
---
Intelligent • Calm • Compassionate
---
Birthday
Technically 29.1.2021 (Aquarius)
---
Reader is a character originally created for a Finnish impro comic Throwout Dogs.
Setting
Reader lives inside a private laboratory, Biological Research Institute (BRI) where dogs are being used as test animals for various experiments.
The experiments done on dogs vary from testing products on them to altering their physical form, but they all serve one purpose: benefit the human kind. By doing these experiments, humans aim to gain scientific knowledge and shape the dog to become a perfect tool for humans to use.
As one might guess, these experiments can be considered at the very least morally questionable, and BRI prioritizes maximising effectiveness of these experiments over the wellbeing of dogs. The activity of BRI is kept strictly private and no-one outside BRI's staff is allowed to visit the place.
Physical description
Reader is a 40cm tall tricolored beagle with large ears, black nose and pads and big expressive eyes. He has only one real eye left, which is chocolate brown - his other eye, blue with a yellow rim, is a bionic eye installed by humans. His expression is usually observant and slightly worried.
Reader has a red electric collar with an identification tag on it, and there's a serial number "312" printed on it. He also has a white non-transparent plastic Elizabethan collar, put on by humans to prevent him from scratching his bionic eye. The plastic collar hides his head from most of the angles which allows him to hide his face easily if he gets overwhelmed.
Personality
Reader is an intelligent beagle with observant eyes. He watches other dogs carefully and reacts to the signs they give accordingly, careful not to provoke anyone. He takes a steady approach on everything and likes to think things over carefully before acting. Sometimes he may be undecisive, especially if he's not absolutely certain of the results his decisions could cause. Despite the awful state of his current living conditions, Reader is afraid of change.
While it can be extremely discouraging to live in a place like this, Reader has realized that even the smallest act of kindness can mean a lot... so whenever it's possible, Reader chooses to be kind. He's very compassionate and always willing to lend an ear to a dog in pain. He's been able to remain sane by keeping on good terms with the other dogs around him, and he would even proceed to call some of them his friends, but he's hesitant to admit how much he cares about them when he could lose them any day. Reader has a very sensitive side, although he doesn't like to show it, and a few mean words are enough to make him upset. Reader has an unhealthy habit of repressing feelings he considers bad, especially if others are relying on him, and this occasionally leads to bursts of anxiety and frustration when he gets tired of bottling up his emotions.
Like most of the other dogs there, Reader too is afraid of humans. He's seen how a dog he cared about was put down for biting a human, which has led him to believe that no dog should ever try to oppose a human. Humans are superior, and they must always be obeyed.
Back story
Reader was born inside the laboratory with his three brothers. Humans took two of the weakest puppies and threw them away, while Reader and his remaining brother 313 got separated from their mother very early on. They were barely full-grown dogs when humans started to do their experiments on them, making irreversible changes on their appearances.
Humans installed a bionic eye implant on Reader's right eye and placed a tiny chip inside his head. The surgical operation was long and painful as Reader didn't get enough anesthetic, but he survived. After recovering from his initial shock, Reader realized that he could recognize letters. And then he realized that the letters placed next to each other formed words. The surgical operation alone would have been enough to push his mental health to its limits, but he couldn't stop his bionic eye from catching every letter he saw around him, trying to read the words and understand them, and it was all too overwhelming to him. It's very possible that that moment, he went temporarily insane. He couldn't remember how or when humans brought him back to his cage, but his brother's broken voice from the other cage brought him back to his senses.
And when Reader turned to look at his brother, he realized that he'd gotten off easy. He couldn't recognize his brother's face, but he knew his voice.
313 was in constant pain, and he only got a fraction of the pain medication he would've needed. For the next few months, Reader could barely rest while his brother was screaming and running against the walls on the other cage. Reader was even more scared whenever it got quiet, but as soon as he started to wonder if his brother was dead, the screaming began again. 313 tried to attack any human that brought food or water into his cage, and he couldn't be taken out for a walk, which made him even more stressed out. Finally 313 bit a human on arm and the sound of breaking bones could be heard across the hallway. 313 only let go of the human's arm when the rest of the staff put him down promptly. That day Reader learned that opposing a human would only lead to immediate death.
After his brother died, Reader's life has remained dull and unchanging. He's never been able to catch a glimpse of the outer world, but he's heard stories from the very few dogs who have been brought in from outside. Half of him wishes that those stories would be true, while the other half of him fears that there could be a better life waiting outside while he's stuck in this hellhole.
Special trait
The bionic eye and the chip installed inside Reader's brain allow him to read text, which has earned him his current nickname. He can read and understand simple English words and sentences, but reading for too long will give him a headache. He doesn't understand very complicated text or difficult terms. While Reader may benefit from this every now and then, he does miss the time when his eye wouldn't focus on every single letter and word printed all around him.
---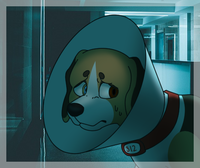 You already took my eye, what more do you want!?
Background texture by Transparent Textures | HTML by Eggy