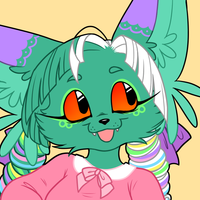 Profile
---
✦SWEET✦
SHE/HER✦BI✦240+YEARS OLD✦VULPECULAE FENNEC✦FORMER MURDERER✦LIVES IN SOLEIGNIS
---
My sona who i reflect everyhing into. She made effort to improve her magic as to not get caught on the act of killing criminals out of depression and an overwhelming feeling of not doing enough for other people. Once she's been discovered, Helius deemed the crimes of her victims themselves as treason to save her from a death sentence. She retired from these actions for the sake of preserving her own mental health and in respect for Helius, since absolving a dangerous killer caused enough commotion, she could at least free him from further headaches. Nearly 40 years later, she carries no regret for what she did but is sensitive to the fear of everything giving a step back. Specially since she saved Priya from near sexual assault very recently.
---
She's quite easy to read but not to understand. Flirts a bit with her friends. She works on the architecture area at Helius' castle and is part of his occasional Magic Attack Squad. She's a dance and active pursuer of various artistic hobbies. Has lots of adopted cats she keeps in a big area just for them. She can be a jokester who uses humour to lighten every situations, or a mom-friend who gives lots of gifts, food and life advice.
---
WIFE: Maryetta; BEST FRIEND: Nemeaus; FRIENDS: Regulus and Algieba.