---
She's Wonderful! she brings me a lot of milkshakes!... Always seemed a little worried about me.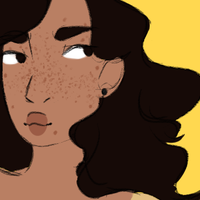 ---
Jamie is someone Mary relates too the most! Mary appreciates Jamie's strong views of Justice. Kind of Validates her in a way. She wishes Jamie only the best and would stand by her side to get it. She wishes she could be more honest with everyone as she is with Jamie.
---
She's responsible, kind, level headed, and she has power he DREAMS of. Mary is one of his best friends and he'd be lying if he said he doesn't look to her for guidance.
---
He means well! even if he has a hard time getting there. She thinks of him as a younger sibling, although she can have short patience for his law-breaking antics she thinks of him as a capable hero when he applies himself, and wishes that he would see a therapist
---
Ren thinks of Mary as another big sister of hers! She loves hanging out with her at Costco, especially when she's feeling down! However she does think Mary can be a little too strict when it comes to her black and white view of the world
---
She thinks of Ren as a super close friend!! she feels like she can trust Ren with just about anything. She's a little worried Ren is falling in a bit too deep with Baxton's antics... She hopes she's happy with Lin! she likes going to costco with ren to talk.