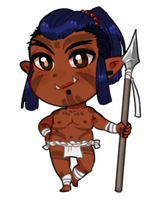 ---
Charon's brother-in-law is Dom'Khar, and though outward appearances are hairpin-trigger chaotic between the two, Charon finds Dom'Khar's strength to sometimes be overwhelming in its perfection, and kind of is jealous... Knows that Dom'Khar can't be too strong if he has to put up with Monti every day, though.
---
Dom'Khar's brother-in-law and settlement jester is Charon. When Monti deeply aggravates Dom'Khar, he can actually see how Charon and Monti are twins in that they are both annoying little pests that don't deserve to live. Has attempted to smack sense into Charon several times and never gets any closer to seeing improvement in the fat gnat's life.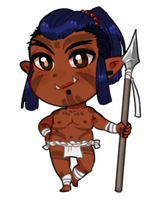 ---
Charon's twin brother is Monti. Charon can't imagine a time where he wasn't informed of Monti's whereabouts and his actions, or there to witness/participate in them-- not even when they came out of their mother's belly! He loves Monti fiercely, even though his brother can be a bore and spoilsport often. Someone has to help Monti with himself and that sad lack of self-esteem, and Charon takes to that task not-so-well but with plenty of energy.
---
Monti's twin brother is Charon, and Monti is unsure of how they managed to be born at the same time from the same mother. There are times that Monti feels close to Charon and there are times that Monti wants to never see Charon again with how much he hates him. He wishes that he didn't have to babysit Charon before, during, and after his duties every day.
---
Dom'Khar doesn't even know Deakong exists. If he knew, he'd kill him. [it's just that simple. lol]
---
Deakong thinks Dom'Khar is the strongest-looking Orc he has seen in his reconnaissance. Beyond that, Deakong knows Dom'Khar is no different than the other Orcs in that he is a savage... And vile scum that will not stand a chance against his Holy Army. ... And, privately, admires his sensual untamed strength.
---
[AU] Sirel is Godwynn's first son. He was a surprise, and continues to surprise him. Most of Sirel's endeavors come off as misguided and entirely useless, but Godwynn hopes with further discipline and study, Sirel will come into capability.
---
Sirel loves their father even though he can be cruel often. There's something to be admired in the reliable efficiency Godwynn goes about in all aspects of his life. And Sirel will forever be grateful that Godwynn gave him a brother to love, too!
---
[AU] Sirel is Deakong's nephew. Deakong used to consider him freakish and deformed, but as Sirel grew up and eventually joined his military, he sees the untapped power within Sirel's four arms and gargantuan stature. But personality-wise, Deakong couldn't care less... The boy has no spine.
---
Deakong is a very intimidating Uncle, though Sirel has no other to measure this feeling by. Even when Deakong treats him neutrally and isn't belittling him in the training camps, Sirel straightens up his act in the man's presence. If he sees his Uncle at the castle grounds in his leisure, will absolutely hide or go about his business in the other direction.
---
Deakong's older brother is Prince/King Godwynn. He finds the man dull and weak. Tolerates him on behalf of his parents wishes.
---
Godwynn's younger brother is Deakong. Thinks his brother is headstrong-- knows that ego of his needs a good down-sizing, but when you're a Prince you get more yes-men than nay-sayers at your side. They've never seen eye-to-eye and have hardly spent more than 2 hours, leisurely or otherwise, together.