THIS PROFILE IS UNDER CONSTRUCTION!! PLEASE MIND THE MESS!
---
BlueQuill • 19 • He/They
Pikmin 4 real :eye:
Latest Bulletin
---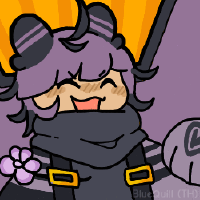 TW// Mentions of Drugs (very mildly), Homelessness. Good time to mention I also don't alter words that are/might be "sensitive", mostly 'cause I'm not super in touch w/ that internet demographic anymore
If you don't want to read my rambling, please jump to the next bit of bolded text, as I have questions :'×
---
Gonna start off by being real, I don't think anyone is really going to read this! (That being said I'm going to act like I have an audience.) I'm kind of just putting this post here to throw questions into the abyss so I can at least have a list of what I need to do/work on etc. (And a "how I am" thing bc I know I want one person to know I'm okay lol) Also because. Idk. I didn't really immerse myself in the whole "sharing my life on social media" thing very publicly when I was younger, so just writing is weird
(This post, as it is already, will be all over the place, because 🍃)
Anyways,
I'm not going to become super active again. Least for now. Truth is I don't really spend all my time on my phone anymore.
I'll put the doodles of my stupids up here, the sketches of environments, etc etc. I still deeply care about my OCS, especially my Nimysti group, but I have a really hard time making sure I get things posted here. I need to organize a bunch.
Uh, something something, I want to get back into animating! I know I can, I just suck at generating a consistent flow of work for myself. Structure thing, yada yada
Point being I'm still using my characters and draw them offline,
Speaking of which.... Help!! I want to get back into art really badly(!!!), but I really don't know where to start!
So, I need help finding...
An animation reference website! All the ones I seem to find are defunct, which is extremely saddening but understandable. I need a website that has a bunch of walk cycles, everyday motions, along w/ generalized perspective shots (completely fine if the website only has human or animal examples), and maybe some environment/weather stuff ><
Anatomy Reference Website/Book of some kind please. If it's on Kindle or something I can look at that too, maybe. However I need anatomy help. So much.

Scars, Blood, and Fabric Folds reference site is good too. I should of mentioned I also don't mind if I'm just linked some Tumblr blog or something lol

And last but not least a trustable Online Bank because I know I can animate and marketing myself better would yield fruit. I also kind of need the money for homeless broke bitch reasons, mostly to get myself some much needed winter clothes
---
Any help is super appreciated! This post is not betaread
still reading? Take care of yourself. Look at some trees 🌳 and drink some water please it's probably been a while, dehydrated mfers :gun: