Morgan
20 . enby man . swag but sad
he/him . fae/faer . nya/nyan
About Me
---
Hi! I'm Morgan Michael. I'm a neurodivergent nonbinary man. I use he/him, fae/faer, and nya/nyan pronouns, as well as masculine terms. If you don't know how to use my pronouns, please check out my pronouny to the left!
I draw all of my characters, even my adopts, because I can't get a feel for them without drawing them. So most of the art on my page is mine. The guy in my current profile pic is called Dill Pickle. I made him before the pickle rick meme
Please note that my character HTMLs are extensively frankencoded out of several Eggy paid templates. I think mostly Clean (Stacked) modified with Overview, but there were some other things mixed in and I like, made parts.
Interests
---
space, astronomy
scifi, robots
plants
ocean, sea slugs
angels, unicorns, mythology
gross things
bugs, insects, assorted crawlies; bees and butterflies are cool
whispering into mics, asmr
playing minecraft
salps
Notice
---
Flags in my banner, in order: Asexual, Achillean Gay Man, Genderqueer (I'm also generally queer!), Trans Nonbinary, Ambonec
DNI if you disagree with any part of my identity or expression thanks!
DNI if you support shipping incest or pedophila (any kind.), or if you are a consumer of loli/shotacon. I don't care what you call yourself, if this is the content you enjoy Begone.
DNI if you are a Deus Cult Crusader/Purge the Xenos Space Marine guy. You know who you are!
Please be my friend I am lonely
Commissions
---
I've never done commissions but I'm leaving this here because I think about them sometimes.
Adopts
---
I might do adopts in the future, I like to make designs, hehe... Please don't offer on my normal OCs!
Featured
---
Roleplay
---
I haven't made one yet! But I usually RP on Discord. If you see this invite me to your fantasy/scifi rps where gay is legal and the RP isn't combat based. Thanks.
Latest Bulletin
---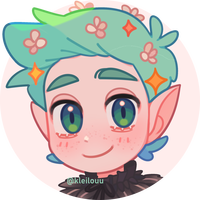 I think I said I was going to mass upload images and then I forgot. Anyway. Going to make profiles for my adopts to track their worth.