This is the secondary account of AntiSSerenity
Please message that account if you're trying to get in contact with me since I won't always be logged into this account, so messaging my main account will give you a quicker response!

Latest Bulletin
---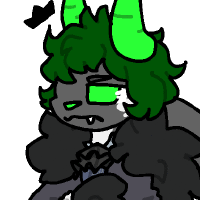 TH CLEAROUT!
Looking to rehome all the characters in this TH as well as the characters here: https://toyhou.se/AntiSSerenity/characters/folder:all/tags:1/tagged:Maybe (DO NOT GO OUTSIDE OF THAT TAG I WILL BONK YOU)
I will be very tent with the character in my main TH but you're welcome to offer away! (And don't make an art only offer on someone from my main TH I will not accept those offers.)
What I'm looking for (most to least wanted):
Money (Paypal only!)
HQ Character trades from popular artists/designers (mostly wanted are: Doctor_, Knite, 0096, Saltjester, Nyudex, Kyealtia, DontJinxit, Flopchoppie, Toongore, Renakii, Niobium & SerperiorGleaf) or popular closed species (mostly wanted are: Scarfoxes, Impims, Jolleraptors, Impims, Cccats & Howltars)
Animations (icons, pixel icons, memes, etc.)
Artwork (scenes and fulls of anthro characters are most wanted. WILL BE PICKY WITH ART STYLES.)
one offs
Take a look here: https://toyhou.se/12463915.design-prefs
To get an idea of what characters I'm after. And REMEMBER, to read the characters descriptions, there might be specific things I'll take for certain characters.
I prefer if you comment on this post with offers so I can keep track of things easily! TY < 3
You can however if you want a quicker response send me a direct message on my main AntiSSerenity
DISCLAMER: Any art offers that aren't completed within a month, or I've received no updates or messages asking for an extensions; will lead to character automatically being put back up for sale.
Recent Characters & Designs
---