✮

ELECTRO

SPANZ 

✭
Female / Canadian / March 13th / Asexual
ElectroSpanz is a personal digital artist for aesthetic themes. Although laid-back, she tends to hold her anger until she couldn't take it anymore, but she is also nonsensical for laughs.
Love of general rock, electronic songs and sometimes jazz and country, she tends to get pretty picky over what music that interests her and what music she doesn't have interested on. She may not be a fan of movies, but she's into watching some shows that spiked her interests. She may feel empty, but she has a family she keeps in tact when things become a lonely hill for her.
Latest Bulletin
---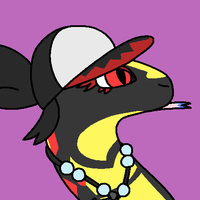 Everyone that are inside of the folders has their own alignments and what are their intentions are for a good reason. Time goes on when they have a freedom to do stuff. Whatever if their alignment might be changed in the future, i'll be glad to change it. Links will also be here for the character's alignments by emotion.
Lawful Good .💎.
Also known as Crusaders, these characters are honorable and are praised to be respected and for the good. They also tend to help and protect others from the evil and often make rules for the better.

Neutral Good .☀️.
Also known as the Benefactors, these characters will do anything to help anyone they care for, but also usually refrain themselves from killing others unless if it means necessary. They often comply with laws, but will likely rebel against them if the rules are considered unjustified.

Chaotic Good .🔥.
No matter how much their behavior causes, they will do anything to protect them from the evil regardless of how violent their acts are. They are able to enjoy their freedom and will likely rebel against the rules that are set by others if they feel are too strict or unfair. They are also known as Rebels and will likely relax if they feel it is done.

Lawful Neutral .🐦.
Also known as Judges, these characters will perform their actions strictly for the law or code, whatever it is established or constituted by another group. They will be able to follow these set of rules to their end and some of them wanted the community around them to follow these, regardless of the implications of their actions.

True Neutral .🌺.
These characters naturally act without a doubt. They are usually nice to people no matter how good or bad they are, but if one decided to push their buttons, they are the ones not to be welcomed to and are not forced by emotions.

Chaotic Neutral .🍂.
These characters are also known as Free Spirits who can do whatever they want no matter if the others disagree with their doings. They can be played easily as a protagonist or antagonist depending on the situation or genre.

Lawful Evil .💀.
Some characters have a desire to dominate and bow the world before them. Others follow their code of honor despite their malicious acts and will likely have minions that are loyal to them. All of them will deploy any means necessary to achieve their goals, regardless of how cruel these are. They are also known as Dominators.

Neutral Evil .🎃.
Also known as Malefactors, these characters are not likely to be trusted for the sake of evil. They will do anything to bend and break the rules and laws and will do whatever they want. They will act hostile or cruel if one stops them from achieving their goals.

Chaotic Evil .🐉.
What these characters want is nothing more than chaos, murder, slaughter and destruction for the sake of their hatred and greed. However, they are likely to be malevolent, crazy and not the ones to be trusted without any murderous acts. They are also known as Destroyers.
Recent Characters & Designs
---