Heyo, this is Fable here, nice to meet you all. I'm just an undertale weeb that likes to draw skeletons and make aus. I'm always up to meeting new friends and I'm chill with shipping ocs with others, so long as we discuss about it first. At first I may act a little shy, but after I warm up to you I tend to be a goofball and like to send funny memes to make people laugh. If you add me as a friend, be prepared to be spammed by a truckload of memes so be warned lol XD.
If you have any questions feel free to send me a dm and I'll try to respond back as soon as I can. X3
Latest Bulletin
---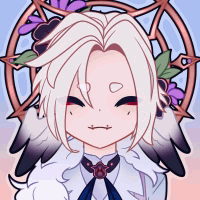 Title says it all, but I'll be moving to a new toyhouse account. I've rebranded myself to a new name which is Zoruax. You can either call me Zoruax or Zoru for short. I'm fine with being called Fable still, though would prefer Zoruax/Zoru more. Zoruax on Toyhouse

That account is will I'll be posting my art mainly now and characters that I'm using actively in my aus will be visible there. My other undertale ocs I've stored away on another account for personal reasons. 
Recent Characters & Designs
---