DOC
19 . he/him . theme
---
Hiya, my name's Simon but I prefer Doc online. I'm the self-proclaimed CEO of mad science, and I love the hell out of glowcore and sciencecore aesthetics. I'm a furry, musician, artist, dev of OFF fangame TIME, and just overall a sad little man trying to make a name for himself in the world. I love OFF, Bloodborne, Pokémon, Psychonauts, Hellsing, and Resident Evil, and I'm currently attending art school as an animation major. Feel free to chat with me, I try not to bite.
---
Notice
Many of my characters will contain horror, medical, and NSFW themes.
My art and design trades are ALWAYS open! Contact me whenever you like.
I accept SFW fanart/gifts! No need to ask in advance!
Feel free to contact me about anything, be it a problem or a chat--I'm most active on Discord.
Commissions
Sales Open
Trades Open
Requests Closed
My commission information is all linked above. Availability of certain services will change--all you need to do is check that trusty Carrd on occasion. Contact is open on any linked social medias, though I am most active on Discord. Art and design trades will, for the most part, remain open constantly; if I have a paid commission to do first there may be a delay on trades.
Featured
Latest Bulletin
---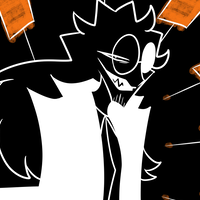 If you'd ever like to do an art or design trade with me, comment here, even if you're just visiting my profile and see this! I'm always looking for them ^^