Doc
@GLITCH-DXCTOR
It's me! Your friendly neighborhood Doc! I'm 18, I use he/him, and I'm bisexual. I'm a furry who loves mad scientists and horror, particularly Silent Hill, Dead by Daylight, and OFF. I'm also the dev of the OFF fangame TIME, which is still a WIP. Please hit me up if you want to chat or do art/design trades!
YouTube
Tumblr
Twitter
Flight Rising
Art Status
Commissions Closed (Reworking)
Trades Open
Requests Never
oooo you want to listen to A Stray Child from the Silent Hill 3 soundtrack so bad ooooooo
Contact
Contact me on Discord (message for username)
Send me a DM through Toyhou.se (not preferred)
Need to Knows
I have difficulty drawing birds and angel wings.
Humans/humanoids are not my specialty, but I can try!
I WILL draw NSFW art. However, some fetishes I will NOT do. Contact for more info.
Latest Bulletin
---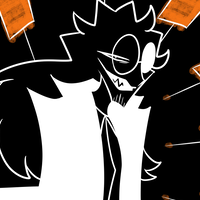 If you'd ever like to do an art or design trade with me, comment here, even if you're just visiting my profile and see this! I'm always looking for them ^^