Hello I'm Avery and I live a life where I do things sometimes. Notably draw pictures and make music with vocal synths like Vocaloid, Utau and SynthV. I also like gaming and one of my favorite series is Yakuza.
I used to be really social but mostly just keep to myself now, you're welcome to message me though and I'll answer asap!!
You might find me existing as a dragon online too...
My icon was drawn by
demonerium
and the profile icon was drawn by
Foxy-Alien
. Character is Jounouchi from Yu-Gi-Oh.
shoujo a - one day after another remix
Siinamota + Sasanomaly
I speak English and Japanese

I use CSP and a Monoprice tablet

My favorite Vocaloid is Iroha Nekomura

I have a Website you can visit right now

I used a character code for my profile
Here are some links of mine...

...if you would like them!
As an FYI, I don't inherently mind offers on my characters. I don't tag very fancily! The ones that are relevant to character offers are:
N: No! Do not expect me to give these characters up for any random thing. Typically more leniant but I do care enough about them to tag them so tread lightly.
DN: DOUBLE No! These are next to impossible to get off of me for various reasons so you can ask, but stay dilligent and realize that if they obviously have a lot of work into them it's pretty much a guaranteed no. Characters with this tag that say, don't have complete profiles, aren't exempt. I probably have plans for them that I just haven't realized. So you can try and ask for these characters but don't get your hopes up.
Thanks for reading this if you did.
Latest Bulletin
---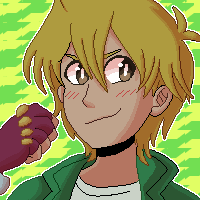 Hello all, I know I extremely rarely post and even less commonly to advertise, but I've got a serious reason to do it . So being as plain as possible, someone hurt my cat Ollie and we need to have one of his paws amputated . He's doing good right now, his surgery is in a few hours as of writing so after then we'll know the full scope of his recovery but he is ok for now . But this surgery isn't cheap, I'm paying for the majority of it myself and already putting my entire paycheck (biweekly) towards it because it'll cost anywhere from $600~$800. I currently have a bit over half of that, the required amount for immediate payment, then the rest can be paid off later . UPDATE. They overestimated !! Thanks to commissions I've already gotten, I can pay the full price up front !! Comms will stay open for post op care items like wet food , bathroom pads, as well as medicine or redressing costs if they come up .
So I've opened commissions !! My friend Mike @ fkmtpromostuff has also offered up his art too ! All the info is right on the tin, so if you're interested or have questions please do comment or dm!
(images link to stash for zooming purposes)