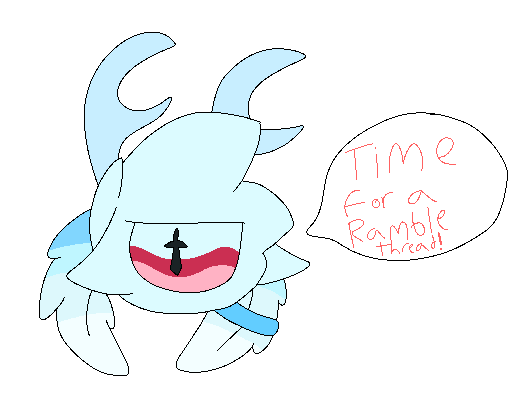 For those who don't know, I have just recently made a ramble thread, and I'll probably make one of these every sunday, but only if you want me to make more of these. They're all just gonna be random rambles every week, and I tend to talk about my past life, and other things.
You don't need to have a Twitter account to see my first ramble thread, so feel free to check it out if you're interested (linked above).
(On an unrelated note, yes, I did mention that in one of the tweets I used to like Fairy Tail a lot until I lost interest in the series. If you're not familiar with the series, then feel free to look it up.)
Henlo everyone.
If you haven't noticed recently, I've been planning on changing my profile for a while, so I have just updated it to something new:
That's all for now. Have a pleasant afternoon (From CST).
Well, in my case, 2019 had just began in my timezone (I'm in CST). How are y'all's first day of 2019 going so far?
It was created last summer, but as of now, I will be posting my art on both here (Toyhouse) and there (Twitter). I will no longer post on DeviantArt. If you wanna be up to date with my activity, then feel free to follow me on Twitter. Don't worry, I'll still be active on Toyhouse.
Anyway, have a good day!
Hello, guys.
For those who haven't noticed, I actually own a pair of guinea pigs, and recently, one of the two guinea pigs have died today. I remembered getting 2 guinea pigs the night before my birthday last month. The white one was Ricky and the brown is Marty. They are both birthday gifts. I was planning to get a ferret, but I didn't.
Today, Ricky died from choking, and I am officially heartbroken from this. Here's a picture of him when I first got him:
I am in deep pain of his passing, because he was one of my birthday gifts from last month, and I was so happy that he was here.
Marty, on the other hand, is alive and well. I hope he doesn't end up in the same fate...
Ricky's death actually made Marty upset, and he was crying because he saw him collasped in his cage, which shocked me upon seeing this.
May Ricky's life live on...
2017(?)-2018
ME.
Yes, I'm now officially 16 Years Old.
Now, send me cursed images.
Since my 16th birthday is coming near, I am thinking of creating an account for all of my retired characters in my retired folder. I need to look for a code to make another account for this.
I think it's up to me to look for a code, but should I create an old character archive account?
Update: I have now opened my archive account Forblaze! I'll transfer any of my characters from the retired folder to there in a bit!
Since my birthday is coming up, I decided to make a bulletin for my birthday countdown. This will be updated every day until the date below has been reached.
Birthday: October 22nd
Days left as of now: TOMORROW!
Weeks left as of now: (No longer being updated)
Is my first anniversary on Toyhouse! I would like to thank everyone on this site for having me here! I first joined this site as "AORIMARU", and now here I am. Toyhouse instantly became my number 1 favorite site of all time, and even though Toyhouse has its downsides, I never gave up on it. Once again, thank you so much for having me here! I deeply appreciate it!
My first year on Toyhouse anniversary will be on September 21st, the day when I have no school.
So, a year has passed by, huh? Thank you so much Toyhouse for having me on this site!